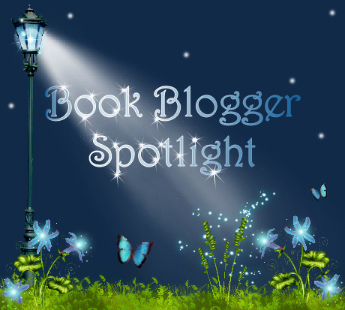 Babbling of a Bookaholic
When and why did you become a book blogger?
I started my blog on August 10th of this year! I have always loved reading and in July of last summer I started reviewing books on Goodreads. I enjoyed it so much I wanted to do something more so I started my blog.
How did you come up with the name of your blog?
It just came to me, I talk a lot so babbling fit and Babbling of a Bookaholic just sounded catchy to me.
What is your favorite thing about blogging?
The people you get to meet, it is so fun to hear what others think about my reviews and posts. I love talking and meeting new people. (:
What do you find the hardest about blogging?
For me I think it's the fact that I want to become a bigger blog one day so I try to get involved with a lot of different things and sometimes it becomes stressful. I want reading to always be an enjoyment and never feel like a job. Also, keeping up with the posts for my blog. I participate in quite a few weekly features and sometimes it's difficult to find the time to keep up with them. I try not to just throw my blog posts together, I like to spend time on them and make them what/how I want them so it gets hard sometimes!
Does your blog participate in any weekly features and if so which is your favorite?
My blog participates in quite a few actually, my favorite is Cover Characteristics hosted by Sugar and Snark. Every week there is a new characteristic and you get to pick out 5 different book covers that include the characteristic. I love book covers, sometimes I buy books just because of the covers, so it's just really fun!
What has been your favorite moment since you became a book blogger? Which review, interview or giveaway have you been most proud of?
There are too many moments to pick just one, I think when I got my first ARC book I was really excited. The review I'm most proud of is my review of
Tilt by Ellen Hopkins
or my review of
Frozen by Mary Casanova
. Ellen is my all time favorite author and she actually commented on my review of Tilt and shared it for others to see. That was one of my all time favorite moments and I really love the review I did of that book. I also really love my review for Frozen because I feel like it just fits the book really well. I suggest you read both books, amazing reads!
What kind of genres do you enjoy reading and reviewing the most?
I recently got into really loving paranormal books but I've always leaned towards books about real life problems or mystery/thrillers.
What is your favorite individual book or series? What makes you love it so much?
My favorite series right now is probably the
Midnight Breed
series by Lara Adrian. They're a really neat twist on vampires and I love how each book is about a different couple. My favorite stand alone is harder to answer, I really loved
Impulse
and
Identical
by Ellen Hopkins. Both are amazing books about real life problems people deal with every day.
Who is your favorite fictional male character, why and from what book or series are they from?
I have a few but I think Connor from
Impulse
is one of my all time favorite male characters because in the story he seems like the one character in Impulse who has the least of the problems but in the end he's the one who was the worst. I think he just shows readers that just because people seem okay on the outside doesn't mean they're actually okay below the surface.
Who is your favorite fictional female character, why and from what book or series are they from?
This might be a bit peculiar but Kristina from
The Crank Series
by Ellen Hopkins. I found this series after someone that means a lot to me had gotten arrested for something that had to do with drugs. It really helped me through the situation and in a way better understand how it all could have gone down. Kristina was really raw, what you got wasn't a sugar coated story of her life with 'the monster' it was all very real. In some way her story helped me deal with the loss of someone that means a lot to me at that time. I am forever grateful for this series.
Who are your favorite three authors and why?
Ellen Hopkins
is my all time #1 favorite author because of how amazing and unique her writing is. Her books are about things that people go through every day and all of her books are so raw and uncensored. You get the real thing, not a sugar coated fairy tale.
Nicole Williams
because she never fails to create swoon worthy male characters for me to dream about. I love all of her books.
Lara Adrian
because she can take an over used story and make it her own.
What are you reading right now?
Ever by
Jessa Russo
, I'm not that far into it but Toby is really mysterious and I'm excited to learn more about him.
Paper books or ebooks?
Paper Books, forever and always.
Which would be your favorite place to read? Curled up on a cold day in front of a fireplace, in front of a window on a lovely overcast rainy day or outside on a hammock on a warm summer's day?
In front of a window on a lovely overcast rainy day with the window open if that's possible. I love the smell of the rain and the rain in general.
Milk chocolate, white chocolate or dark chocolate?
Milk chocolate! I can't stand dark chocolate and I'm really not a huge fan of white chocolate either.
Coffee or hot tea?
Hot tea! I get it from my Gammy, she's a huge tea fanatic.
Would you like to give any other details about yourself? How can others find you around the web? Such as Facebook, Twitter, Goodreads, etc...
Thank you so much for interviewing me, Christine! I had a blast answering all of your questions.
Blog:
http://www.babblingofabookaholic.blogspot.com
Facebook:
https://www.facebook.com/BabblingOfABookaholic
Twitter:
https://twitter.com/BabblingReviews
Goodreads:
http://www.goodreads.com/user/show/11347908-kylee