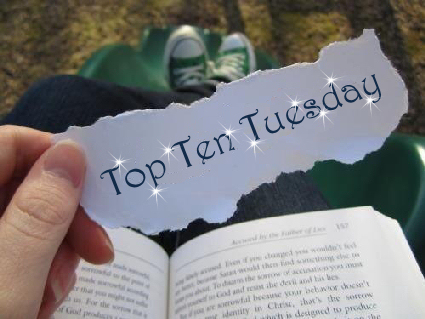 Hosted by Broke and The Bookish
This Week's Topic is:
Top Ten Favorite Books With a College Setting
MY REVIEW
Abby Abernathy is a good girl. She doesn't drink or swear, and she has the appropriate number of cardigans in her wardrobe. Abby believes she has enough distance from the darkness of her past, but when she arrives at college with her best friend, her path to a new beginning is quickly challenged by Eastern University's Walking One-Night Stand.

Travis Maddox, lean, cut, and covered in tattoos, is exactly what Abby wants—and needs—to avoid. He spends his nights winning money in a floating fight ring, and his days as the ultimate college campus charmer. Intrigued by Abby's resistance to his appeal, Travis tricks her into his daily life with a simple bet. If he loses, he must remain abstinent for a month. If Abby loses, she must live in Travis's apartment for the same amount of time. Either way, Travis has no idea that he has met his match.
MY REVIEW
When Jacqueline follows her longtime boyfriend to the college of his choice, the last thing she expects is a breakup two months into sophomore year. After two weeks in shock, she wakes up to her new reality: she's single, attending a state university instead of a music conservatory, ignored by her former circle of friends, and failing a class for the first time in her life.
Leaving a party alone, Jacqueline is assaulted by her ex's frat brother. Rescued by a stranger who seems to be in the right place at the right time, she wants nothing more than to forget the attack and that night--but her savior, Lucas, sits on the back row of her econ class, sketching in a notebook and staring at her. Her friends nominate him to be the perfect rebound.
When her attacker turns stalker, Jacqueline has a choice: crumple in defeat or learn to fight back. Lucas remains protective, but he's hiding secrets of his own. Suddenly appearances are everything, and knowing who to trust is anything but easy.
MY REVIEW
Deep in the stacks of Oxford's Bodleian Library, young scholar Diana Bishop unwittingly calls up a bewitched alchemical manuscript in the course of her research. Descended from an old and distinguished line of witches, Diana wants nothing to do with sorcery; so after a furtive glance and a few notes, she banishes the book to the stacks. But her discovery sets a fantastical underworld stirring, and a horde of daemons, witches, and vampires soon descends upon the library. Diana has stumbled upon a coveted treasure lost for centuries-and she is the only creature who can break its spell.
MY REVIEW
Some things are worth waiting for…
Traveling thousands of miles from home to enter college is the only way nineteen-year-old Avery Morgansten can escape what happened at the Halloween party five years ago—an event that forever changed her life. All she needs to do is make it to her classes on time, make sure the bracelet on her left wrist stays in place, not draw any attention to herself, and maybe—please God—make a few friends, because surely that would be a nice change of pace. The one thing she didn't need and never planned on was capturing the attention of the one guy who could shatter the precarious future she's building for herself.
Some things are worth experiencing…
Cameron Hamilton is six feet and three inches of swoon-worthy hotness, complete with a pair of striking blue eyes and a remarkable ability to make her want things she believed were irrevocably stolen from her. She knows she needs to stay away from him, but Cam is freaking everywhere, with his charm, his witty banter, and that damn dimple that's just so… so lickable. Getting involved with him is dangerous, but when ignoring the simmering tension that sparks whenever they are around each other becomes impossible, he brings out a side of her she never knew existed.
Some things should never be kept quiet…
But when Avery starts receiving threatening emails and phone calls forcing her to face a past she wants silenced, she's has no other choice but to acknowledge that someone is refusing to allow her to let go of that night when everything changed. When the devastating truth comes out, will she resurface this time with one less scar? And can Cam be there to help her or will he be dragged down with her?
And some things are worth fighting for…
MY REVIEW
For almost two years now, Kiera's boyfriend, Denny, has been everything she's ever wanted: loving, tender and endlessly devoted to her. When they head off to a new city to start their lives together, Denny at his dream job and Kiera at a top-notch university, everything seems perfect. Then an unforeseen obligation forces the happy couple apart.
Feeling lonely, confused, and in need of comfort, Kiera turns to an unexpected source – a local rock star named Kellan Kyle. At first, he's purely a friend that she can lean on, but as her loneliness grows, so does their relationship. And then one night everything changes...and none of them will ever be the same.
MY REVIEW
Love. Romance. Sex. There's a first time for everything...
As far as Bliss Edwards can tell, she's the last virgin standing, certainly amongst her friends. And she's determined to deal with the 'problem' as quickly and simply as possible.
But her plan for a no-strings one night stand turns out to be anything but simple. Especially when she arrives for her first class and recognises her hot new British professor.
She'd left him naked in her bed just 8 hours earlier...
MY REVIEW
He was tall, at least six feet, with dirty blond hair that hung over his eyes. His T-shirt read Nietzsche Is My Homeboy.
So, that was Matt. Who Julie Seagle likes. A lot. But there is also Finn. Who she flat out loves.
Complicated? Awkward? Completely.
But really, how was this freshly-minted Boston transplant and newbie college freshman supposed to know that she would end up living with the family of an old friend of her mother's? This was all supposed to be temporary. Julie wasn't supposed to be important to the Watkins family, or to fall in love with one of the brothers. Especially the one she's never quite met. But what does that really matter? Finn gets her, like no one ever has before. They have connection.
But here's the thing about love, in all its twisty, bumpy permutations—it always throws you a few curves. And no one ever escapes unscathed.
MY REVIEW
Livie has always been the stable one of the two Cleary sisters, handling her parents' tragic death and Kacey's self-destructive phase with strength and maturity. But underneath that exterior is a little girl hanging onto the last words her father ever spoke to her. "Make me proud," he had said. She promised she would...and she's done her best over the past seven years with every choice, with every word, with every action.
Livie walks into Princeton with a solid plan, and she's dead set on delivering on it: Rock her classes, set herself up for medical school, and meet a good, respectable guy that she's going to someday marry. What isn't part of her plan are Jell-O shots, a lovable, party animal roommate she can't say 'no' to, and Ashton, the gorgeous captain of the men's rowing team. Definitely him. He's an arrogant ass who makes Livie's usually non-existent temper flare and everything she doesn't want in a guy. Worse, he's best friends and roommates with Connor, who happens to fits Livie's criteria perfectly. So why does she keep thinking about Ashton?
As Livie finds herself facing mediocre grades, career aspirations she no longer thinks she can handle, and feelings for Ashton that she shouldn't have, she's forced to let go of her last promise to her father and, with it, the only identity that she knows.
MY REVIEW
What does it take to rise from life's depths, swim against the current, and breathe?
Weighted down by the loss of her parents, Blythe McGuire struggles to keep her head above water as she trudges through her last year at Matthews College. Then a chance meeting sends Blythe crashing into something she doesn't expect—an undeniable attraction to a dark-haired senior named Chris Shepherd, whose past may be even more complicated than her own.
As their relationship deepens, Chris pulls Blythe out of the stupor she's been in since the night a fire took half her family. She begins to heal, and even, haltingly, to love this guy who helps her find new paths to pleasure and self-discovery. But as Blythe moves into calmer waters, she realizes Chris is the one still strangled by his family's traumatic history. As dark currents threaten to pull him under, Blythe may be the only person who can keep him from drowning.
MY REVIEW
What happens when you create rules to keep others out?
One thing Emerson Moore has come to terms with is that she is the school slut. She knows her way around a frat house and how to get what she wants. She doesn't make any excuses for her actions and she doesn't pretend to be anything different. She is who she is and with that she knows how to have a good time. She's made rules to keep relationships at bay and avoid the demons of her past.
When her best friend, Cole has his two friends from back home move in with him she begins to think she has met her match with Jaxon Riley. Jax is the perfect mixture of tattooed muscle and a sweet-talking mouth. With "hand" written notes, a voice that exudes sex and knowing just how to get under her skin, Jaxon learns how to break all the rules. But will he just end up breaking her heart anyway?
So there you go... this weeks Top Ten! What is yours?

Feel free to leave your links below so that I can check them out and if you are a new follower be sure to let me know so that I can come and check out your blog in return!