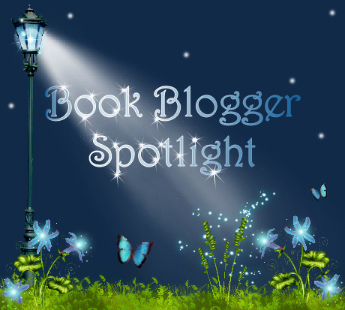 Great Imaginations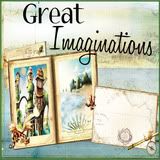 When and why did you become a book blogger?
I started my blog in March of 2011. But before that, I reviewed books on Goodreads for about 6 months (please don't go looking for these early reviews, my writing skills were terrible!). I'm not exactly sure why I decided to start a book blog, but I remember seeing other book blogs and envying what they were doing and wondering whether or not I could do it myself. The problem for me was wondering if I could blog and remain antisocial. I know this sounds weird but I don't really like people and I truly wanted to blog for me and let the chips fall where they may. In real life I am a bit of a loner and I hang with my animal more than people. All I wanted was to be able to continue that lifestyle into my blog and have it be an extension of who I am. Sometimes I am still trying to find that balance, but I am getting to the point where I am mostly satisfied.
How did you come up with the name of your blog?
Tough questions! I honestly don't know. It just came to me on a whim and I truly only thought about a blog name for about 5 minutes before deciding. I am truly lucky that nobody else had a similar name because I did not look beforehand. O_o I am not known for being a creative person.
What is your favorite thing about blogging?
My favorite thing about blogging is all the wonderful people I have met. I know I just said up above that I am antisocial, and I am, but there are a lot of great bloggers that I have became friends with that totally get my personality and know why I am the way I am. It's wonderful when you can be yourself around people and no one judges you for it.
What do you find the hardest about blogging?
For me, it's reading fast enough to maintain content on my blog. I envy other readers who can read a book or more a day. I don't know how they do it. That's the hardest for me and why I don't post daily. I have been battling with depression for years, and doing things on a daily schedule just does not work for me because I lack motivation. So I am lucky if I can post 3-4 times a week, and usually that's what I try to aim for. But that's definitely the hardest. Finding motivation to read and write fast enough.
Does your blog participate in any weekly features and if so which is your favorite?
I participate in Stacking the Shelves when I have books to show my readers. That's the only meme I am currently participating in, though I am thinking about getting into Top Ten Tuesday. I really want to start growing my blog where discussion posts are concerned and I think that meme is a good way to get the juices flowing and provide me with writing prompts.
What has been your favorite moment since you became a book blogger? Which review, interview or giveaway have you been most proud of?
There have been so many! Reaching 3000 followers on Twitter, starting my editing page, posting my husband's Fifty Shades of Grey review, reaching my one year anniversary, being able to talk to so many fantastic authors...I could never just pick one. It's all been a highlight in my life.
Let's do it this way. I will give you a negative review I am most proud of, and a positive review I am most proud of. The
negative review
would be Wrecked by Anna Davies, and the
positive review
I am most proud of is Stormdancer by Jay Kristoff.
What kind of genres do you enjoy reading and reviewing the most?
I like reading young adult fiction and cultural fiction the best, especially if there is an Asian setting.
What is your favorite individual book or series? What makes you love it so much?
My favorite book is
Memoirs of a Geisha
and it probably always will be. That is the book that started my adult obsession with reading and it also started my fascination with Japan. I love the writing, the atmosphere, the setting, the characters, etc. For me, it is the perfect book.
Who is your favorite fictional male character, why and from what book or series are they from?
Uncle Tully from
The Dark Unwinding
by Sharon Cameron, at least for now. This is always changing, but Uncle Tully really resonated with me. I absolutely adore him. He's not a male character that you swoon over because I normally don't get all googly eyed over fictional characters.
Who is your favorite fictional female character, why and from what book or series are they from?
Again, I am going to go with Sayuri/Chiyo from
Memoirs of a Geisha
. I really fell for that girl and her story and everything she went through. I really believed it was real. But aside from that, I also really like Katniss from the
Hunger Games series
.
Who are your favorite three authors and why?
Maria V. Snyder
,
Jay Kristoff
, and
Charlie Higson
. You are making me pick, so I choose those. But I'm more of a fan of individual books than I am authors. But If I have a go-to author, it's Maria V. Snyder.
If you could turn one book or series into films, what would you pick and who would you cast as the main characters?
Actually, I'm going to go with
The Maze Runner series
by James Dashner, and lucky for me, they are already turning that into a movie!
What are you reading right now?
Because it is my Blood
by Gabrielle Zevin, and then after that it is
Magisterium
by Jeff Hirsch.
Paper books or ebooks?
I will always prefer paper books.
Which would be your favorite place to read? Curled up on a cold day in front of a fireplace, in front of a window on a lovely overcast rainy day or outside on a hammock on a warm summer's day?
Can I say neither and choose a screened-in porch during a thunderstorm? But if I have to choose, I say hammock. I'm a warm weather girl.
Milk chocolate, white chocolate or dark chocolate?
Milk chocolate all the way.
Coffee or hot tea?
Coffee every morning, hot tea when I'm sick.
Would you like to give any other details about yourself? How can others find you around the web? Such as Facebook, Twitter, Goodreads, etc...
Blog:
http://www.great-imaginations.com/
Twitter:
https://twitter.com/Kara_Malinczak
Goodreads:
http://www.goodreads.com/user/show/4470942-kara