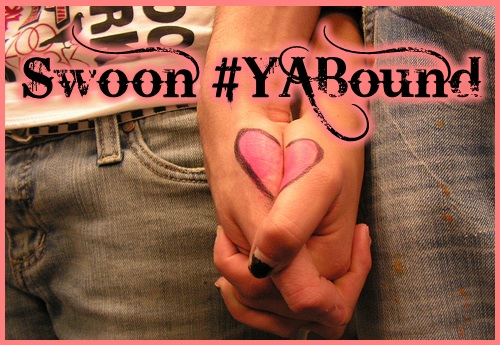 Who doesn't love a good swoon?
The ladies over at YA Bound have created this hot and fun meme!
If you want to join in here's all you need to do.
From the book you're currently reading, or one you just finished, tell us what made you SWOON. What got your heart pounding, your skin tingling and your stomach fluttering?
Then pick a smaller portion of your swoon and tweet it, just don't forget to add the #YABOUND Hashtag to your tweet!

I was SO excited to get an advanced reading copy of
Dare You To
on NetGalley. I swear my entire neighborhood probably heard me when the eMail came through. I am happy to report that I was not at al disappointed... this book is amazing!
My swoon again proves that there doesn't have to be sex or even kissing in a scene to make it swoonworthy. Oh and have I mentioned how much I love Ryan Stone?
Her body scratches against the comforter as she moves. One inch in my direction. A hesitation. Then another inch. My blood tingles with anticipation. This moment is huge - no doubt. I'm asking her to lean on me and Beth is actually considering it.

Come on, Beth, you can trust me.

Finally, in a swift movement, she lays her head on my chest and curls the rest of her body around me. Needs slam into me and if her hand shifts down three inches, she'll know. I want to touch her, but do I dare?

Her breath tickles my chest as she whispers, "I like you, Ryan."

I close my eyes and celebrate the words. She likes me.

"I like you too." A lot.
What is your swoon worthy moment this week?
Feel free to leave your links below so that I can check them out and if you are a new follower be sure to let me know so that I can come and check out your blog in return!