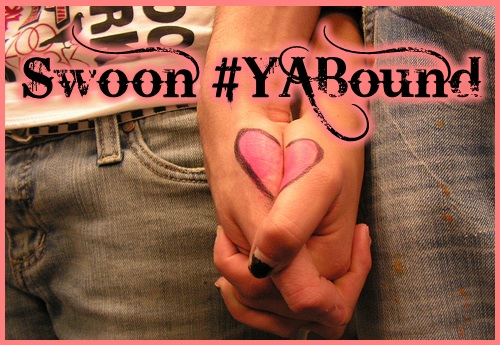 Who doesn't love a good swoon?
The ladies over at YA Bound have created this hot and fun meme!
If you want to join in here's all you need to do.
From the book you're currently reading, or one you just finished, tell us what made you SWOON. What got your heart pounding, your skin tingling and your stomach fluttering?
Then pick a smaller portion of your swoon and tweet it, just don't forget to add the #YABOUND Hashtag to your tweet!

It is official. I love this series. I love every single thing about it. I love the story. I love the characters. I love the mystery of it all. I love Mara. And most of all... I love Noah Elliot Simon Shaw.
If you have not yet read this series then please (I am begging you on bended knee) trust me when I say you need to. It has completely blown me away. Please feel free to check out my
REVIEW
if you have any doubts at all.
Shall I mention again how much I love Noah? I do believe he has ruined me for all of the future fictional boys I planned to fall in love with. From here on out they will all be judged against Noah and sadly most will be found wanting.
"I'm not into kissing," I blurted, my eyes darting back to Noah's.

Noah's mouth tilted into the smallest of smiles. "Oh?"

I swallowed thickly, and nodded. "Someone poking their tongue in someone else's mouth is stupid. And gross."

"Have you kissed many boys before?" he asked quietly.
His question brought my mind back into focus. I raised an eyebrow.
"Boys? That's an assumption."
Noah laughed, the sound low and husky. "Girls, then?"
"No."
"Not many girls? Or not many boys?"
"Neither," I said. Let him make of that what he would.
"How many?"
"Why—"
"I am taking away that word. You are no longer allowed to use it. How many?"
My cheeks flushed, but my voice was steady as I answered. "One."

At this, Noah leaned in impossibly closer, the slender muscles in his forearm flexing as he bent his elbow to bring himself nearer to me, almost touching. I was heady with the proximity of him and grew legitimately concerned that my heart might explode. Maybe Noah wasn't asking. Maybe I didn't mind. I closed my eyes and felt Noah's five o'clock graze my jaw, and the faintest whisper of his lips at my ear.

"He was doing it wrong."
What is your swoon worthy moment this week?
Feel free to leave your links below so that I can check them out and if you are a new follower be sure to let me know so that I can come and check out your blog in return!