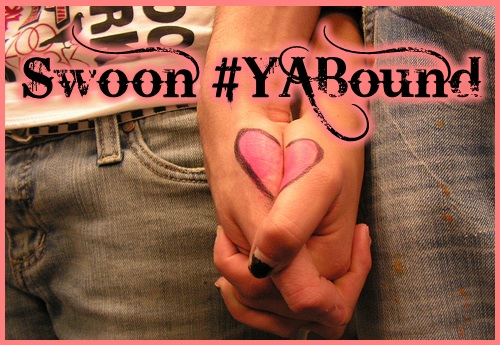 Who doesn't love a good swoon?
The ladies over at YA Bound have created this hot and fun meme!
If you want to join in here's all you need to do.
From the book you're currently reading, or one you just finished, tell us what made you SWOON. What got your heart pounding, your skin tingling and your stomach fluttering?
Then pick a smaller portion of your swoon and tweet it, just don't forget to add the #YABOUND Hashtag to your tweet!

There is absolutely no describing Cam! He is one of the most swoonworthy guys I have EVER in my life read. Jennifer L. Armentrout is an amazing author and she has proved in the past she knows how to write good boys but she has outdone herself with Wait For You.
Cam is... *sigh* perfect.
"Guess what, Avery?"

"What?" I wondered if he could see how fast my heart was beating beneath my shirt.

"Remember how you just said you were having a good time?" Cam lowered his head so that our mouths were scant inches apart. "It's about to get better."

"Is it?"

He shifted his head and his nose grazed mine. "Oh, yeah."

"Are you not going to kiss me again?"

His lips tipped up. "That's exactly what I'm going to do."

Warmth slid thourgh my veins as my body tensed in a welcomed, delicious way. My eyes fluttered shut as his lips brushed mine once and then twice, as if he was getting reacquainted with the feel of them. The slight, barely there touch was nerve racking.

Cam shifted his weight onto his left arm and with his other hand, he spread his fingers along my cheek. He placed a kiss to the corner of my lips and the other side before sliding his hand back around the nape of my neck. His lips moved along my jaw, trailing a fiery path to my ear. A shiver danced along my skin, eliciting a deep, husky chuckle from him. His lips pressed against the sensitive spot under my ear, and a moan crawled up my throat.

"Goodnight, Avery."
What is your swoon worthy moment this week?
Feel free to leave your links below so that I can check them out and if you are a new follower be sure to let me know so that I can come and check out your blog in return!