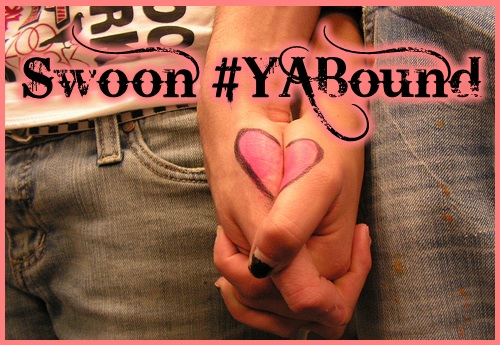 Who doesn't love a good swoon?
The ladies over at YA Bound have created this hot and fun meme!
If you want to join in here's all you need to do.
From the book you're currently reading, or one you just finished, tell us what made you SWOON. What got your heart pounding, your skin tingling and your stomach fluttering?
Then pick a smaller portion of your swoon and tweet it, just don't forget to add the #YABOUND Hashtag to your tweet!

My Swoon this week is again dedicated to the one and only Jem (James) Carstairs. He is one of the most swoonworthy characters I have ever read. He is so gentle, funny, kind, sweet... oooOOOooohhh I could go on and on. I love Jem.
Slowly Jem put the violin back into its case and laid the bow beside it. He straightened and turned to her. His expression was shy, though his white shirt was soaked through with sweat and the pulse in his neck was pounding.

Tessa was speechless.

"Did you like it?" he said. "I could have given you... jewelry, but I wanted it to be something that was wholly yours. That no one else would hear or own. And I am not good with words, so I wrote how I felt about you in music." He paused. "Did you like it?" he said again, and the soft dropping-off of his voice at the end oft he question indicated that he expected to recieve an answer in the negative.

Tessa raised her face so that he could see the tears on it. "Jem."

He dropped to his knees before her, his face all contrition. "Ni jue de tong man, qin ai de?"

"No - no," she said, half-crying, half laughing. "I am not hurt. Not unhappy. Not at all."

A smile broke across his face, lighting his eyes with delight. "Then you did like it."

"It was like I saw your soul in the notes of the music. And it was beautiful."
What is your swoon worthy moment this week?
Feel free to leave your links below so that I can check them out and if you are a new follower be sure to let me know so that I can come and check out your blog in return!