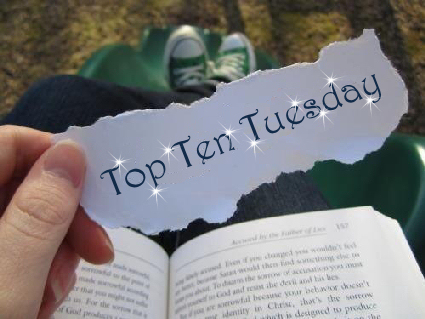 Hosted by Broke and The Bookish
This Week's Topic is:
Top Ten Books I Recommend The Most
Thoughtless ~ Thoughtless Series

There are no words to describe how much I love this series. I pretty much knew going in that I was going to enjoy it but the amount of love that I ended up having for it, shocked even me. A large reason for that love can be directed at Kellan Kyle. Holy swoon alert! He is simply perfect.
The Unbecoming of Mara Dyer ~ Mara Dyer Series

This series had me from page one. The intrigue, mystery, romance... the questions it raises. We are inside Mara's head and all throughout you are still unsure as to what is real and what isn't. It is amazing and I am eagerly awaiting the final book in the series later this year.
Obsidian ~ Lux Series

Obsidian was my first Jennifer L. Armentrout book and I fell in love. I fell in love with her writing, I fell in love Katy and oooOOOooohhh holy alien babies everywhere... I fell in love with Daemon Black. Jennifer writes good boys!
Hopeless

Colleen Hoover is simply amazing. I could just leave it at that but it would not be fair to her. If you haven't read Hopeless then I must ask, why the heck not? Please move it to the top of your TBR list if you haven't already. Hopeless is spectacular and filled me with surprise after surprise and left me breathless.
Beautiful Disaster

This book seems to have one of two reactions. You either love it or you hate it, there really is no in between. As this is on my list of most recommended then I am sure you can tell that I am in the I LOVE IT camp. This was one of my favorite books of 2012.
The Sea of Tranquility

This book completely took me by surprise. I didn't really know what to expect going in and WOW did it blow me away. It is written in dual POV which I absolutely adore. The love you have for these characters and the emotions you experience as their story unfolds will leave you in awe.
Easy

Love. Love. Love this book. Not only do I recommend this book to every single person I know... I would also recommend this book to every single girl who is heading off to college. The story is both powerful and touching. Oh and Lucas is quite the swoonworthy guy!
Pushing the Limits ~ Pushing The Limits Series

Man can Katie McGarry write a great story! I was blown away when I read Pushing the Limits and was touched by Noah and Echo's story. I cried so many tears while reading... yes I do tend to cry quite often when I read but this story really stayed with me. The second book in the series, Dare You To, is also completely awesome and I was very happy to have received an early copy to read.
Slammed ~ Slammed Series

Another of Colleen Hoover's amazing books. The second in the series, Point of Retreat is just as good as Slammed if not better. I loved the story, I loved the characters... I laughed, I cried. I completely fell in love with every single character in the series.
Wait For You

Even though this is a fairly new book it is already one of my top recommended. This is another Jennifer L. Armentrout book, although she wrote it under the name J. Lynn. The story is serious, sweet, sexy and spectacular. Yes those are a lot of words that begin with the letter S but trust me when I say they are all true. READ. THIS. BOOK.
So there you go... this weeks Top Ten! What is yours?

Feel free to leave your links below so that I can check them out and if you are a new follower be sure to let me know so that I can come and check out your blog in return!