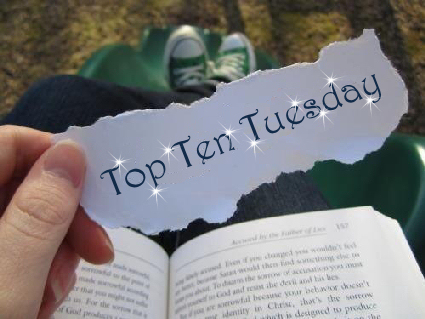 Hosted by Broke and The Bookish
This Week's Topic is:
Top Ten Books On My Spring 2013 TBR list!
For this week's list I picked books that are either going to be released in the Spring or books which are already published but I plan on reading them this Spring.
Walking Disaster ~ April 2nd

It seems like I have been waiting for this book for ages... I immediately fell in love with Beautiful Disaster and then when it was announced that Jamie McGuire was going to write the story from Tavis' point of view... I am not ashamed to say I had a complete fan girl moment. There may or may not have been squealing involved.

oooOOOooohhh who am I kidding? There was a ton of squealing.
Twisted Perfection ~ April 23rd

Gah!!!! I am DYING for this book. Abbi Glines has quickly become one of my favorite authors. Not just for her writing (which is truly amazing) but also how interactive she is with her readers. It means a lot to me that she takes so much time out of her busy schedule to make sure that questions are answered and that she keeps us in the loop of upcoming books, etc...

This book is Woods' story, he is a character from her Too Far series. I love Woods and I just know that his story is going to be just as awesome as the others.
Losing It ~ Already Published

Just as the big purple sticker says on the cover "The book everyone is talking about." I have to agree with this statement. I have heard such good things about this book and so many people have recommended it to me. But sadly it keeps getting pushed down from the top of my TBR list.

But I vow to read it this Spring!
Suicide Note ~ March 15th
This is another book that I have been seeing everywhere. I like the sound of the synopsis and I love that it has the following as part of it.
**Disclaimer: This book contains no acts of suicide and it does have a 'Happily Ever After'**
I'm sold! Can't wait to read this.
Keeping Secrets in Seattle ~ Already Published

I was scrolling through NetGalley when I came across this cover. I am not afraid to admit that I am in fact a cover whore. It was just so cute that I had to check out the synopsis.

Violet is in love with her best friend Gabe, he is about to get married to another woman.... sounds fun! I just had to request a Galley and was approved so now I am very excited to read it.
The Nightmare Affair ~ Already Published

I have been wanting to read this for a few months now and was just waiting on it to be published. It is out now and I am excited to get started.

Dusty is a nightmare... like literally. She feeds on dreams. That is enough of a blurb right there to get me interested.
Down London Road ~ May 7th

This is part of Samantha Young's On Dublin Street series. I adored Braden and Joce in book one and I am very excited to be continuing with some different characters. I am happy that it follows Joanna, we get to know a little about her in On Dublin Street and it was just enough to make me want to read more about her story.
Crossing the Line ~ April 1st

I am in love with Katie McGarry's writing, her stories are amazing. This is part of her Pushing the Limits series and the fact that this is a Novella and I am still this excited to read it should be telling you something. Even in a short story I know it is going to be filled with angst, love, heartbreak and joy.

McGarry can do wonders with words and the fact that there will be fewer of them doesn't scare me in the slightest. This will be amazing.
The Host ~ Already Published

I have always liked the sound of this book and it has always been on my TBR list. However I am not above saying that the reason it has finally been pushed to the top is because of the upcoming film release. I always want to read the book first so yes, it will be read soon! There is no way I could watch the film before reading the book...
If I Should Die ~ May 7th

I need to know how this series ends... like right now. The end of book two ripped my heart out.

I must point out also that the covers to this series are some of my favorites, simply beautiful. But I am slightly obsessed with this one. Do you see down in the bottom left, that shadow? Who is it? Is it Vincent? Is it Jules?

The suspense is killing me... I must read this now.
So there you go... this weeks Top Ten! What is yours?

Feel free to leave your links below so that I can check them out and if you are a new follower be sure to let me know so that I can come and check out your blog in return!