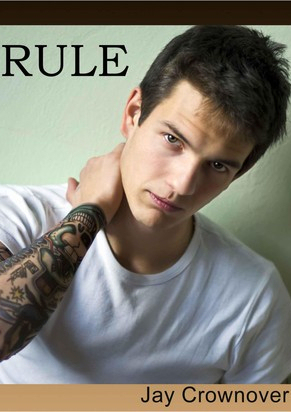 I loved Rule Archer since the first moment I ever laid eyes on him. He was everything I shouldn't want and the only person I went out of my way to not try and please. He only saw me as a brat, as an entitled, stuck up princess but worse than that all he saw when he looked at me was his deceased twin brother's girl.

Shaw Landon was a class act and I had no idea what to do with her. She was tied to my family, tied to the person that was my other half so I tolerated her and her haughty attitude because I didn't have any other choice. What I didn't know was that a short skirt and too many cocktails on her birthday was going to change my outlook on her for the rest of my life. Some people thought I hid behind all my tattoos and piercings, that I tried to distance myself from my dead twin, Shaw saw through it all and wasn't scared of what was underneath.
Title
: Rule (Rule ~ Book 1)
Author
: Jay Crownover |
Twitter
|
Facebook
|
Goodreads
|
Blog
Publication Date
: December 30 2012
Publisher
: Self Published
Length
: 327 Pages
Add it to your TBR Pile
:
Goodreads
Buy It
:
Amazon US
/
Amazon UK
Source
: Purchased (Kindle Edition)
Cover Love
: Not a fan. This is not Rule. Rule's tattoos extend up onto his neck, he has his lip and brow pierced and he would never wear his hair like that.
Point of View
: Alternating 1st person between both Shaw and Rule
My Rating
: 4 Stars
"...Opposites don't just attract they freaking catch fire and burn the entire city down"
What is it about a tattooed, pierced bad boy that drives us girls absolutely out of our minds? I for the life of me will never understand it but boy oh boy do we fall head over heels for them...
I enjoyed the premise of this book. We of course had the tattooed bad boy (Rule) and the blonde rich good girl (Shaw) but this time it's different. Normally it is a night of passion that makes the good girl realize she wants the bad boy and she struggles with the idea of them being together forever. This is not Shaw and Rule. Shaw has been in love with Rule for as long as she can remember and she doesn't care what anybody thinks. The problem here is that Rule doesn't have a clue about how Shaw feels and to be honest he has never really saw her as anything other than his surrogate sister. Of course this is until the day he finally stops and really 'sees' her. Then everything changes.
"Rule if this goes bad it's gonna be so, so bad." Her voice was just a husky whisper against my chest.

"True, but if it's good it's going be so very, very good."
These two are H. O. T. together. There is no denying that. Shaw lets her inhabitations fly out the window when it comes to being with Rule and he realizes that being with a woman can actually be better when you have feelings for her. He is so used to the one night stands and sending the girls on their way the next morning. He had no idea how good it could be when there were feelings involved.
"I'll always take care of you Rule, in fact I like doing it because it makes me happy and it feels good but I'm not ever going to let you use me to work out your demons like you did with all those girls that came before me so you better learn the difference."
I loved how Shaw simply accepts Rule for who he is. She has walked in on him with a countless number of women and has no problem at all accepting that was part of his past and doesn't take every opportunity to throw it all back into his face. The only thing she asks is that from the moment they decide to try to make a go at being together that there be nobody else.
And as always I love that it is dual POV. There really is just something about being able to all up inside the guy's head. With Rule it was nice to see him battling his own demons and being able to work through the feelings he has for Shaw.
"You have to promise not to bail on me when I get lost, Shaw. You have to promise to just wait it out until I can find my way back. I need to know you're at the end of the tunnel when everything goes black."
Now that you know I really enjoyed this book I feel I need to also warn you... I would strongly suggest Rule and I will be reading the next book in the series,
Jet
. However, I want to point out that there are many grammatical and editing issues with this book. I recently saw the author post on Facebook that there is a newer updated version on Amazon that has been uploaded so hopefully this has corrected a lot of the issues.
For me though if the story is good enough and I love the characters enough I can overlook these kinds of mistakes. Which was obviously the case in reading Rule, I was enjoying the story so there was no way I was going to stop. I do still wonder how books make it to being self published with such obvious mistakes? There are a lot of readers on Goodreads who ask to be Beta Readers and in the end isn't that what they are there for? Use their free services.
But please do not take this as me saying not to read Rule. The story is well worth any mistakes you may come across. Trust me... you will fall in love with Rule, in all of his tattooed and pierced glory.
"I'm not Jet so I can't write you a song that makes you understand how important you are to me. I'm not Nash so I can't find a building and paint you a mural that makes you see that it all starts and ends with you for me. I'm a tattoo artist, I'll probably always be a tattoo artist.

Here's my heart Shaw. You have it in your hands and I promise you're the first and last person to ever touch it. You need to be careful with it because it's far more fragile than I ever thought and if you try and give it back I'm not taking it."