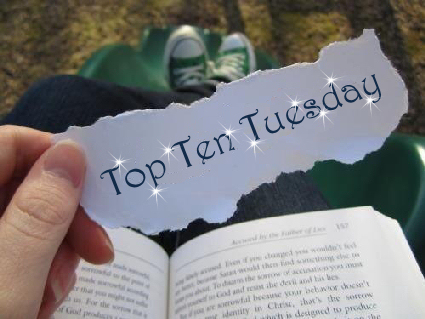 Hosted by Broke and The Bookish
This Week's Topic is:
Top Ten Series I'd Like To Start But Haven't Yet
There are going to be some shockers on this list... be prepared!
The Infernal Devices

I am excited to start every series on this list but The Infernal Devices is the one I can easily say I am the most excited about. I can not believe I have been able to hold off for this long... I was waiting until closer to the release of The Clockwork Princess and finally the release month is upon us! I will be starting this soon.
Divergent
You will see a theme here... I really am trying to also save this series until closer to the release of book three but I don't think I will be able hold off that long. It seems ages away to the final release and I am really excited to get started.
Delirium

Luckily the release for book three in this series is right around the corner which means I can start this one soon also. Will be nice having them all published and ready to read when I get to the end of each book.
Vampire Academy
The only thing holding me off from starting the Vampire Academy is that the sheer number of them frightens me. I think I am going to need to talk myself into starting them but make a pact with myself to maybe only read two or so at a time with other books between. Maybe that will make the number of them less daunting.
Up In The Air

I have a friend that has finished this series and she loved it so I really am excited to get started. I hear the guy in it hot, hot... hot. I also know a lot of other book bloggers love this author and series.
Love

There are two books in this series that have so far been published. I've heard good things but again the only thing holding me back is that book one is over 600 pages. Why does that scare me? Not sure really....
Daughter of Smoke and Bone

Again, I have heard such good things! I know for sure I will start this series before the end of 2013. Almost every book blogger I know has loved this series.
The Education of...

Older woman, younger guy... I really can't wait to read these. I've heard that the guy in it is completely swoon worthy and who doesn't like to read a good swoon?
Lunar Chronicles

What can I say? I can't believe I am so behind on some of these series books. When I first saw Cinder released I thought it looked great but I never got around to reading it and now Cinder is out. I really have to get started on all of these.
Unfinished Hero

I only just found this series a week ago because I saw everybody talking about the third book, Raid. I saw the reviews for Knight and it sounds like something I would love so yes... new series to add to the must read list.
So there you go... this weeks Top Ten! What is yours?

Feel free to leave your links below so that I can check them out and if you are a new follower be sure to let me know so that I can come and check out your blog in return!