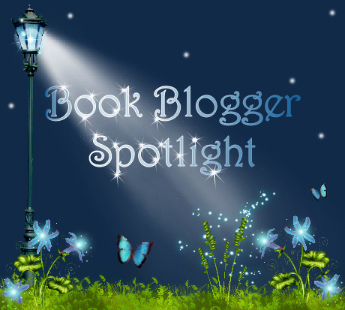 The Anfractuous Bookaholic
When and why did you become a book blogger?
I started my blog on November 11, 2011. I started the blog because I had joined Goodreads and was really loving the interaction that I was finding with readers there. I didn't have any friends who read and I didn't have anybody to talk with about something that I was so passionate about. After being on Goodreads for a good 6 months or so, I stumbled upon an even higher level to express my love of books. The world of Blogging. I made my own blog that very same day and have never looked back.
How did you come up with the name of your blog?
Well my blog was originally called 'The Funky Bookaholic'.... and after a while, that just sounded, well... funky to me. LOL. So I started to look around for new and interesting words and I eventually stumbled upon the word '
Anfractuous
'. I had never heard it before, but it really described what I had been through with my blog and I automatically knew it was perfect. So I became The Anfractuous Bookaholic. It's a cool word, you should all look it up if you don't know it's meaning. =D
What is your favorite thing about blogging?
I know this question usually gets the same answer, but it's really the people. Because without the people who are just as passionate about reading and following my blog and commenting back on what I do, there really wouldn't be any reason for my blog. The actual work behind everything on my blog is like having another job. It takes a lot of time and dedication, but my followers and the people that comment on my blog and send me emails. They are the ones that make all the work worthwhile.
What do you find the hardest about blogging?
Setting up the posts really. I think at heart I am a perfectionist and unless everything on my post looks great, I won't post it. I've had posts before that have taken me over 2 hours of work. And the readers are probably not on that post for more then 5 or 10 minutes. But if I hear back from even one person, it makes setting it up worth while.
Does your blog participate in any weekly features and if so which is your favorite?
Yea, my blog participates in quite a few. I know that I won't be able to post a book review up everyday and I always try my hardest to have something new for my followers to come to and see on a daily basis. I follow the following meme's.
Teaser Tuesdays
Top Ten Tuesday
W.W.W. Wednesday
Waiting on Wednesday
(just started following this one)
Follow Friday
Stacking the Shelves
Mm.... I don't know if I necessarily have a favorite. They all have something different to offer me and my followers. But if I really had to choose one I would probably say Follow Friday because it's the one I have been following the longest.
What has been your favorite moment since you became a book blogger? Which review, interview or giveaway have you been most proud of?
Mm.... There have been a lot of great things since my blog first started. But I think one of my favorite moments was really early on. When my blog practically went from 1 follower to 50 followers within like a 3 hour time frame. And it was all thanks to 2 great book bloggers who got the word out about my new blog. They are the one's that really helped me start everything and really helped an inexperienced blogger turn her blog into something that people would like to follow. I can honestly say that without those 2 ladies, I wouldn't be where I am now.
My favorite interview as well as my favorite giveaway would definitely both have to be my first ones. Not that I haven't absolutely loved every interview I have had with an author or every giveaway I have thrown for my followers. The first's one just stick out because they are the first. It was the first time an author gave me the time of day to give them an interview and it was the first time I was able to throw a giveaway for all my amazing followers. You can find links for them right below this.
First Interview
(Cesya MaRae Cuono)
First Giveaway
(300 Follower Giveaway)
What kind of genres do you enjoy reading and reviewing the most?
When I was younger all I read was historical romance. Then I took a few years off from reading. When I came back, thanks in part to my sister I started to read books in the YA genre. I mainly reading YA Paranormal, Urban Fantasy, Some Sci-fi and High Fantasy. But mainly I love YA Paranormal as long as it has a romance in it. Any book I read needs a romance in it, or I become extremely bored with it. LOL. There are a few Adult Paranormal books thrown in every now and then. And recently I have come to enjoy YA Contemporary as well.
What is your favorite individual book or series? What makes you love it so much?
Okay... LOL... [scratches the back of my head]... Don't kill me people, but I would definitely have to say The Twilight Series. Remember when I said my sister got be back into reading... It's because she gave me the first two Twilight books to read and... well the rest is pretty obvious. While I know The Twilight Series is a very controversially series, it will always hold a special place in my heart because it got me throw some of the most difficult times in my life (so far). So no matter what, I will always love it. =D
Who is your favorite fictional male character, why and from what book or series are they from?
This is SUCH a hard question for me to answer... I tend to love the male characters in books a lot more then I do the female characters (the female characters half the time just aren't as kick-ass as the males). If we were talking about a male character that I could put a face to, I would always have to say Edward Cullen from the
Twilight Series
(then again I could be extremely bias on this since I have actually met Robert Pattinson who plays Edward Cullen in the movies). But if we were strictly talking books, then Dimitri Belikov from the
Vampire Academy Series
. My heart melts for my Dimka <3<3<3<3
Who is your favorite fictional female character, why and from what book or series are they from?
Now this is an easier question for me to answer. Rosemarie "Rose" Hathaway from the
Vampire Academy Series
. She is easily the most kick-ass female heroine I have come across in a series. At least in my opinion. And yes, I know she can be quite arrogant a lot of the time, but here's the thing. Her arrogance never once got on my nerves. It was so ingrained into who she was that I never thought twice about it (Richelle Mead did an amazing job on creating this heroine). I mean, because usually arrogant characters really annoy me. But overall, Rose is strong. She sticks up for what she believes in, fights tooth and nail to protect those she loves and would put her own life on line for her friends. That is exactly how I am, so she is not only the most kick-ass heroine, she is also the heroine that I have been able to relate the MOST with.
Who are your favorite three authors and why?
Richelle Mead
(I will read anything this lady writes if you couldn't already how much I love her by the fact that I just gushed about the Vampire Academy series.)
Bertrice Small
(She writes Adult Historical Romance, but even though I haven't read one of her books since I was like 12 years old I can still remember practically everything that happened in all of her books that I have read to this day. Years later she still has an impact on my life. That is what I can an amazing writer).
Darynda Jones
(Her Series
Charley Davidson
has one of the snarkiest and outright funniest heroines EVER. The series is definitely Adult and while not what I typically read, it still managed to capture my heart).
If you could turn one book or series into films, what would you pick and who would you cast as the main characters?
Easy,
Vampire Academy Series
.... (tell me you didn't see this coming... LOL). But at the same time I would be terrified of it being turned into a movie as well. Because if they ruined it I would ball my eyes out. And I am absolutely horrible about picking out a cast for a movie so I won't even attempt to do that, but I know who I would want for my Dimka....
YUMMY ------->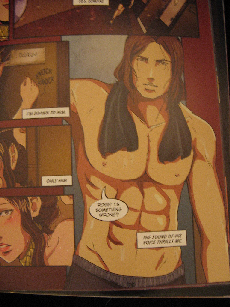 Can we turn this guy into a real life person. He is the only true perfect Dimitri. Ohhh.... I'm off to read my copy of Vampire Academy: Graphic Novel now.
What are you reading right now?
I am currently reading
The Demon Trapper's Daughter
by Jana Oliver.
Paper books or ebooks?
Paper. I don't own a nook or kindle and to be completely honest, unless I was gifted one I won't be buying one at all. I love holding the actual book in my hands way to much to want to have a nook or kindle. The only thing I miss is that there are so many good books that are coming out from self-published authors that I can read because they are only available as ebooks.
Which would be your favorite place to read? Curled up on a cold day in front of a fireplace, in front of a window on a lovely overcast rainy day or outside on a hammock on a warm summer's day?
I have already dreamed of being able to read curled up on a window sill (you know that windows that have like a sitting area build into them) while it was pouring outside and just enjoying my book. I will do that one day. =D
Milk chocolate, white chocolate or dark chocolate?
Mm. Good question. Well I know it's not White Chocolate because I absolutely hate that stuff. But I like both Milk and Dark Chocolate. It just really depends on what I am craving at the moment.
Coffee or hot tea?
Coffee, unless you had some Iced Tea or Sweet Tea then it would be one of those two.
Would you like to give any other details about yourself? How can others find you around the web? Such as Facebook, Twitter, Goodreads, etc...
Blog:
http://www.futterflies.blogspot.com
My email is
satinsorrow88@gmail.com
and I am obsessive about checking it like a billizon times a day. Unless I am absolutely busy that would be the fastest way to contact me.
You can find me on Twitter at
@CassiesBooks
, but I really only use my twitter account to promote things on my blog or promote other blogger's giveaways. I only check it maybe once a day.
Facebook:
http://www.facebook.com/anfractuous.bookaholic
Goodreads:
http://www.goodreads.com/SatinSorrow
Thank you so much everyone who took the time to read all of this. It has been such a pleasure to be on the Book Blooger Spotlight. Thank you so much Christine for having me. I would love to hear back from people so feel free to contact me about anything, I promise I won't bite. =D