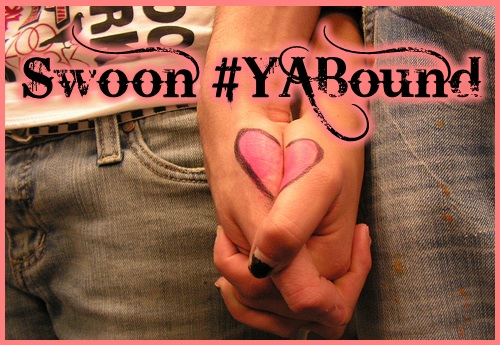 Who doesn't love a good swoon?
The ladies over at YA Bound have created this hot and fun meme!
If you want to join in here's all you need to do.
From the book you're currently reading, or one you just finished, tell us what made you SWOON. What got your heart pounding, your skin tingling and your stomach fluttering?
Then pick a smaller portion of your swoon and tweet it, just don't forget to add the #YABOUND Hashtag to your tweet!
I adored this book! I loved that it was told in alternating POVs and this swoon is from Andrew's. This is one of my favorite scenes and it just goes to show that you can swoon even without kissing...
"Now just open your eyes and look up," I say, already looking up myself.

A smaller truck zooms past, followed by a few cars, but neither of us notices. Another semi flies by and the wind knocks the car a little, but we don't care about that, either. She winces at first as the rain gets in her eyes, but she does it, every now and then squinting and trying to curl her face into my side to shield it from the rain and the whole time, laughing gently. She forces herself to look straight up, but this time closes her eyes and lets her mouth part halfway.

I watch her lips, how the rain moves over them in rivulets and how she smiles and flinches when the drops hit her in the back of the throat. How her shoulders push up when she tries to bury her face, smiling and laughing and soaking wet. I watch her so much that I forget it's raining at all.
What is your swoon worthy moment this week?
Feel free to leave your links below so that I can check them out and if you are a new follower be sure to let me know so that I can come and check out your blog in return!