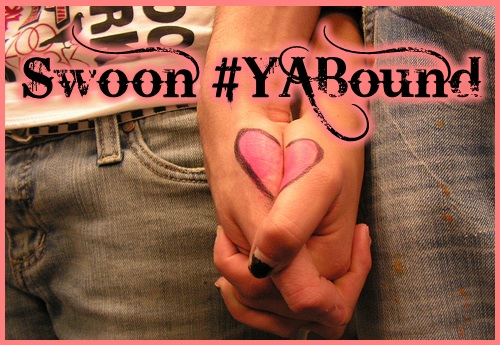 Who doesn't love a good swoon?
The ladies over at YA Bound have created this hot and fun meme!
If you want to join in here's all you need to do.
From the book you're currently reading, or one you just finished, tell us what made you SWOON. What got your heart pounding, your skin tingling and your stomach fluttering?
Then pick a smaller portion of your swoon and tweet it, just don't forget to add the #YABOUND Hashtag to your tweet!
Okay you guys... you will have to bear with me this week because I have picked a really long swoon but man oh man is it amazing!! I read
Hopeless
this week and I was blown away. Honestly and simply blown away. I can not push this book any harder on people. I want everybody I know to read it, I want everybody who reads my review and this swoon to read it... I just want every single person to read it. It was awesome. And Sky and Holder? Wow. So very swoonworthy.
And after the scene I am about to share below Sky and Holder experience the best first non kiss in the history of non kisses. I would have posted it but I want to save that for you when you read it. Because trust me, you will read it. You will not want to miss this book.
"Sky, I'm not kissing you tonight but believe me when I tell you, I've never wanted to kiss a girl more. So stop thinking I'm not attracted to you because you have no idea just how much I am. You can hold my hand, you can run your fingers through my hair, you can straddle me while I feed you spaghetti, but you are not getting kissed tonight. And probably not tomorrow either. I need this. I need to know for sure that you're feeling every single thing that I'm feeling the moment my lips touch yours. Because I want your first kiss to be the best first kiss in the history of first kisses."

I grin, because that was seriously the best excuse ever for being turned down. He could turn me down every day for the rest of my life, so long as it's followed up by that excuse. "But you're wrong about one thing."

"What's that?"

"You said you want my first kiss to be the best first kiss, but this won't be my first kiss. You know that."

He narrows his eyes and pulls his hands from mine, then cups my face again. He pushes me back against the refrigerator and brings his lips dangerously close to mine. The smile is gone from his eyes and is replaced by a very serious expression. An expression so intense, I stop breathing.

He leans in excruciatingly slowly until his lips just barely reach mine, and the anticipation of them alone is enough to paralyze me. He doesn't close his eyes, so neither of us do. He holds me in this position for a moment, allowing our breath to blend between us. I've never felt so helpless and out of control of myself, and if he doesn't do something in the next three seconds, I'm more than likely going to pounce him.

He looks at my lips and when he does, it prompts me to pull my bottom lip between my teeth. Otherwise I just might bite him.

"Let me inform you of something," he says in a low voice. "The moment my lips touch yours, it will be your first kiss. Because if you've never felt anything when someone's kissed you, then no one's ever really kissed you. Not the way I plan on kissing you."
What is your swoon worthy moment this week?
Feel free to leave your links below so that I can check them out and if you are a new follower be sure to let me know so that I can come and check out your blog in return!