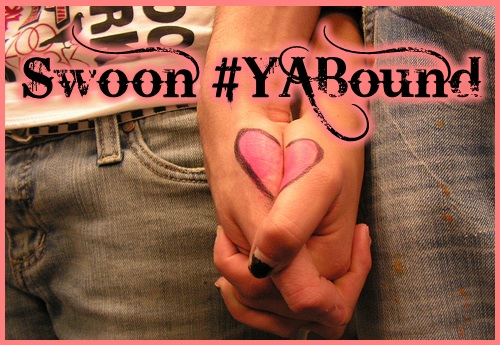 Who doesn't love a good swoon?
The ladies over at YA Bound have created this hot and fun meme!
If you want to join in here's all you need to do.
From the book you're currently reading, or one you just finished, tell us what made you SWOON. What got your heart pounding, your skin tingling and your stomach fluttering?
Then pick a smaller portion of your swoon and tweet it, just don't forget to add the #YABOUND Hashtag to your tweet!
It has been just a little over a week since I finished The Sea of Tranquility and I have read a couple books since I finished it but my brain just keeps going back to Josh and Nastya. This was truly a story that will stay with me forever and one that I know I will read again and again.
"Josh, there are like five hundred Italian restaurants at home. You could have taken me to any of them. Why did we drive two hours to have dinner?"

"I wanted to talk to you."

I wanted to talk to you. He says it like it's the most obvious answer in the world. He drove us two hours away for dinner, to a place where no one would know us, so that we could have a conversation. I want to laugh and cry and hug the living crap out of him. I kiss him instead.

As soon as my lips are on his, his hand is at the back of my neck and he's pulling me against his chest like he's been waiting for this forever and he's not going to let me get away. But I don't want to get away, and if the steering wheel wasn't there, I would climb into his lap just to be closer to him.

Then he shifts just slightly and I'm not kissing him anymore. He's kissing me. And when he does, part of me is lost. But it's the part that's twisted and mangled and wrong, and for just that moment with his hands in my hair and his lips on my mouth, I can pretend that it never existed.
What is your swoon worthy moment this week?
Feel free to leave your links below so that I can check them out and if you are a new follower be sure to let me know so that I can come and check out your blog in return!