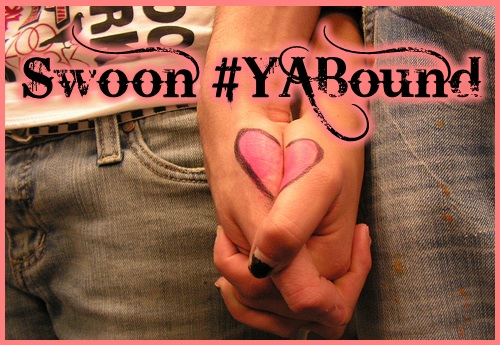 Who doesn't love a good swoon?
The ladies over at YA Bound have created this hot and fun meme!
If you want to join in here's all you need to do.
From the book you're currently reading, or one you just finished, tell us what made you SWOON. What got your heart pounding, your skin tingling and your stomach fluttering?
Then pick a smaller portion of your swoon and tweet it, just don't forget to add the #YABOUND Hashtag to your tweet!
So this week I just had to have two swoons! I could not choose between them as they are both sooooo great! Of course they are both from Jennifer L. Armentrout, she is such an amazing author.
I am in love with the
Covenant series
and Deity has to be my favorite book of the series by far. There were so many swoon worthy moments to pick from but this was the winner.
As he kissed me again, he eased onto his back. My heart was hammering against my ribs as his fingers left my face and travelled down. He lifted himself up just enough for me to take off his shirt and toss it aside. My hands splayed across each hard ripple and I kissed my way down until his chest heaved under my lips and he whispered my name in a pleading sort of way. He gripped my arms and pulled me back to his lips.

I shrugged out of his grasp and lifted my arms without speaking. He obeyed the silent command and tossed my shirt aside. Without any warning, I was on back, staring up at him. His hands slipped over my bare skin as his lips dipped down my throat and over the curve of my shoulder.
Now on to number two... I only just finished Opal on Tuesday night and WOW! Not only was it my favorite book in the
Lux series
but it is also one of my favorite books of 2012. It was absolutely spectacular!
He settled over me, not touching, not quite. The electricity between us snapped and pulled. A wild feeling pulsed through me. I lifted my hands, sinking them into his hair, pulling him closer. I swept my lips over his, and his body trembled. His fiery eyes drifted shut as my thumb moved on his bottom lip. My hands were on the move, slipping over the thick cords in his neck and back, around his chest and down. Lower, over the hard planes of his stomach. He sucked in a sharp breath.
What is your swoon worthy moment this week?
Feel free to leave your links below so that I can check them out and if you are a new follower be sure to let me know so that I can come and check out your blog in return!