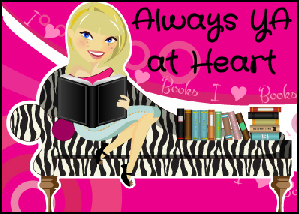 My name is Ellen Gault and I am from Savannah Georgia. I am married and have two boys. I am a nurse and also do medical transcription.
When and why did you become a book blogger?
I started blogging in January of 2012, or trying to anyway. It took a while to get the hang of things. I always loved reading, but had gotten away from it for a number of years. When the Twilight series came out, I read it, and it got me interested again. Then when the Hunger Games came out, I delved right into that series, then Divergent, and on and on from there. I loved the books I was reading so much I really wanted to be able to communicate with others who felt the same way about books as I did, so I started blogging.
How did you come up with the name of your blog?
Well, I am definitely no longer what you would consider a young adult, but that happens to be my favorite genre. I just decided that even though I wasn't technically a young adult anymore, I would always be one at heart.
What is your favorite thing about blogging?
I really love being able to share and talk about how I feel about the books I read with others who love books just as much as I do. It is also great to be able to gush about fictional characters like they are real with people who understand and don't think you need to be "institutionalized – LOL" for feeling the way you do about them and talking about people who "don't really exist."
What do you find the hardest about blogging?
It is a lot more work than I anticipated. I also have a really hard time saying no to authors who want their book reviewed, so I tend to take on more than I need to, but I'm getting better about it.
Does your blog participate in any weekly features and if so which is your favorite?
I participate in
Teaser Tuesday
,
Waiting on Wednesday
, and
Stacking the Shelves
. I think Waiting on Wednesday is my favorite, because you get to find out about so many great books that are coming out and get to meet so many other great bloggers.
What has been your favorite moment since you became a book blogger? Which review, interview or giveaway have you been most proud of?
When I first started blogging, one of the biggest thrills was actually getting someone to follow your blog or read a review that you had written, LOL.
As far as your second questions, that's a hard one. I think one of the most fun posts I did was for the
Tour for Deity by Jennifer Armentrout
, hosted by Stuck in books. I did a character spotlight on Deacon St. Delphi, and it was so much fun finding things out about him, deciding what to post, and finding picture of what I think he would look like. I also really love character interviews.
What kind of genres do you enjoy reading and reviewing the most?
I love young adult books, though I do read and review adult books to, and I am absolutely in love with the New Adult books that are coming out. When I first started reading, I preferred paranormal romance or dystopia, but have come to love contemporary romance a whole lot to. Since I started blogging, I have come to enjoy so many different genres I never thought I would, such as historical romance and even some mild horror, though I'm kind of selective about that.
What is your favorite individual book or series? What makes you love it so much?
I don't think I can name just one. I love the
Lux Series
by Jennifer Armentrout. If I had to say one word why, it would be Daemon Black, swoon. It is really a great series. I love her
Covenant Series
also. The story, the characters, and the romance is fantastic. I am a huge Abbi Glines fan also. Beau Vincent from
The Vincent Boys and The Vincent Brothers
is my ultimate book boyfriend. I also love her
Sea Breeze Series
. She just knows how to write hot romance. Another of my favorites is
The Grey Wolves Series
by Quinn Loftis. It is a paranormal romance centered around werewolves. I love Quinn's take on werewolves, it is original, romantic, and her characters are awesome.
Who is your favorite fictional male character, why and from what book or series are they from?
Well I think I just answered that above. Beau Vincent from Abbi Glines
The Vincent Boys
is my favorite. Cash Davenport from M. Leightons
Down to You and Up to Me
runs a close second, as does Daemon Black from Jennnifer Armentrout's
Lux Series
.
Who is your favorite fictional female character, why and from what book or series are they from?
I really like Alex from the
Covenant Series
by Jennifer Armentrout. She is a kick-butt heroine, she's funny, and she's far from perfect, which makes her seem even more real and likeable.
Who are your favorite three authors and why?
Jennifer Armentrout
– love everything she writes.
Abbi Glines
– she is just awesome and knows how to write romance.
Thirdly, it is so hard to choose. I would say it's a tie between
Quinn Loftis
, Michelle Leighton, and Shelly Crane. I love all three of these ladies. I love their writing style, the characters they create, and they are just awesome people.
If you could turn one book or series into films, what would you pick and who would you cast as the main characters?
I would love to see
Obsidian
as a movie. I honestly don't know who I would cast as Daemon. I can't think of anyone that meets my expectations, unless the cover model (
Pepe Toth
) learns to act.
What books are you most looking forward to in 2013?
I am looking forward to
The Forever of Ella and Micha
by Jessica Sorensen,
Obsession
and
Origin
by Jennifer Armentrout, anything
Abbi Glines
writes, and there are several series I read that I am really looking forward to the sequels in, such as
The Bad Boys Series
by M. Leighton, Eflin and
The Grey Wolves Series
by Quinn Loftis, and I am dying to read
Walking Disaster
by Jamie McGuire.
Paper books or ebooks?
ebooks
Where is your favorite place to read?
In the recliner in my living room after everyone has gone to bed.
Milk chocolate, white chocolate or dark chocolate?
Milk chocolate
Coffee, hot tea or hot chocolate?
Definitely coffee
Would you like to give any other details about yourself? How can others find you around the web? Such as Facebook, Twitter, Goodreads, etc...
Blog:
http://www.alwaysyaatheart.com
Twitter:
https://twitter.com/alwaysyaatheart
Facebook:
https://www.facebook.com/pages/Always-YA-at-Heart/273116292778138
Goodreads:
http://www.goodreads.com/alwaysyaatheart