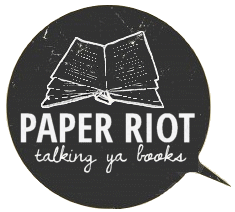 Hi! I'm Judith, 19 years old, and I'm from the Netherlands. Besides being an obsessive reader and compulsive book buyer, I'm also an aspiring writer. And currently, college student. When I grow up, I want to be a writer or an editor, please. (So don't be alarmed if any of the following answers are unnaturally long. I just happen to write a lot. Sorry.)
When and why did you become a book blogger?
I've been blogging since I was fifteen, but somehow I never thought about book blogging until I came across one in July 2012. I immediately knew that I wanted to do that too (Talking obsessively about books? With people that actually love those books too? Sign me up!). I started my blog on August 2, 2012, so I haven't been blogging for that long, but I have enjoyed everything about it so for, and I'm not planning to leave anytime soon!
How did you come up with the name of your blog?
This was a terribly long, terribly boring process of me thinking of all possible words that had something to do with books. I'm the worst when it comes to picking names, probably because names are so important so me. (Seriously, I've spent quite some time scanning long lists of baby names to come up with the perfect names for the characters in my own stories. Yeah...) But when a name feels right, it's usually right. I didn't pick Paper Riot for any reason other than that I just love those two words. I also wanted a name that was short, something that's easy to remember.
What is your favorite thing about blogging?
Both writing my posts and connecting with other bloggers. I love being creative and to keep challenging myself in the process of creating new content, but I also love the contact with other bloggers. I didn't think that I would end up in such an open, kind and heartwarming community and I'm having the best time talking books with you guys!
What do you find the hardest about blogging?
Writing negative reviews is one of them. Well, I don't particularly mind it, because I want to be honest to people who read my reviews, but I can't help but feel guilty towards the author who's spent all their time on a book, even though I know my opinion is subjective and, oh well…
Does your blog participate in any weekly features and if so which is your favorite?
I'm currently in the process of developing some features of my own, but so far, the only feature I regularly participate in is
Top Ten Tuesday
, hosted by the Broke and the Bookish. I don't want my blog to be all features and no "real" content, so I picked one feature and decided to stick to that. And I'm also a big fan of making lists…
What has been your favorite moment since you became a book blogger? Which review, interview or giveaway have you been most proud of?
To name one thing as my favorite is a difficult task. Besides meeting so many amazing people who recommended me the most amazing books, I like the way I've grown as a blogger. In the months I've been blogging I've discovered the type of reviewing style that suits me best, and therefore I'm pleased with some of my more recent reviews. But the post I loved writing most was the one where I share
my thoughts on book hangovers
(part serious, part sarcasm), since I had such a fun time writing it.
What kind of genres do you enjoy reading and reviewing the most?
I love anything YA from contemporary to dystopian to fantasy. I haven't been reading a lot of historical fiction and sci-fi recently, but I'd love to explore those more.
What is your favorite individual book or series? What makes you love it so much?
Harry Potter
, forever and always, just because I can't imagine not having that series in my life. I'm also a big fan of
The Hunger Games
, because I've been following the series since 2008 and I love how more and more people fell in love with it over the years. (Just want to add that I didn't really enjoy the movie and I'm team Katniss all the way.) I'm also obligated to mention
Looking for Alaska
by John Green, which is amazingly, incredibly, heart-wrenchingly perfect and makes me feel all the things every time I read it.
Who is your favorite fictional male character, why and from what book or series are they from?
Right now, I'm a big
Magnus Bane
fan. I mean, he's fabulous and hilarious. But if we're talking fictional crush, I'd have to say either Four from
Divergent
or Jase from
My Life Next Door
.
Who is your favorite fictional female character, why and from what book or series are they from?
I always say
Katniss Everdeen
, because she's a combination of everything I'd want to be and everything I admire in other people.
Who are your favorite three authors and why?
John Green
. If you've ever read any post on my blog, you know I'm a massive John Green fan. Not only are Looking for Alaska and TFiOS the only books I've reviewed and rated as 'perfect' on my blog, but his awesomeness is sky high.
I obviously admire
J.K. Rowling
. No explanation needed.
Is it cheating to list
Jackson Pearce
even though I haven't read any of her books? I follow her on You Tube and basically, she's hilarious.
If you could turn one book or series into films, what would you pick and who would you cast as the main characters?
Confession: I don't like visualizing characters. I have big issues with it. When I'm reading a book, I can't see characters. I know them, and I love them, but I don't see them. This is the reason why I have such a big problem with books turned into movies. I don't mean I don't love those movies, but it takes time for me to adapt to a different medium. So I'm not casting anybody. But I'd love to see
The Unbecoming of Mara Dyer
because it would be creepy in a GOOD WAY.
What books are you most looking forward to in 2013?
I have a top 3, consisting of
Scarlet
by Marissa Meyer,
Unravel Me
by Tahereh Mafi and
Divergent #3
by Veronica Roth. There are obviously more books I'm looking forward to, but these are the ones that always pop into my head immediately.
Paper books or ebooks?
I love how e-books are easily accessible, but I definitely love paper books more. I like holding a physical book and I like turning pages and I'm still building my own library. I won't stop buying paper books, even when I finally buy my own e-reader.
Where is your favorite place to read?
Anywhere in my house: whether it's curled up in my bed late at night, or under a blanket on the couch, or in the garden on a warm summer day… at long as I'm sitting or lying somewhere comfortable with some snacks or drinks nearby haha.
Milk chocolate, white chocolate or dark chocolate?
A light dark chocolate. (Ha!)
Coffee, hot tea or hot chocolate?
Hot chocolate!
Would you like to give any other details about yourself? How can others find you around the web? Such as Facebook, Twitter, Goodreads, etc...
Blog:
http://www.paperiot.com
Twitter:
https://twitter.com/paperiot
Goodreads:
http://www.goodreads.com/paperiot
Instagram:
http://instagram.com/paperiot
Wooo, I think I did okay on the length of my answers! I tried keeping everything as short as possible, haha. And Christine, thanks so so much for having me! I feel very honored and I loved being a part of your feature.