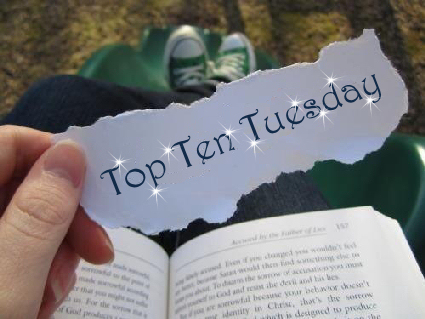 Hosted by Broke and The Bookish
This Week's Topic is:
Top Ten Favorite Romances
I am in complete love with Mara and Noah. Their romance is so sweet as it slowly builds up while they learn to trust each other. Although the events that are going on around them are in question as to them being real or not, their feelings for each other can not be questioned.
MY REVIEW
Will and Lake fall hard for each other right off the bat but for reasons I will not be spoiling for you they are forced to attempt to stay apart. The romance is made even better because of the 'we shouldn't be doing this' factor. Of course the poetry helps, who wouldn't want somebody to write a poem for them?
MY REVIEW
Daemon and Katy are electric! I remember in my review of this book I kept trying to get across just how electric they are. The romance takes a while to build but oh is the build up worth the wait...
MY REVIEW
Diana and Matthew... I love these two. Their romance also has the whole 'we shouldn't be together' factor. But they simply can not stay away from each other. Their romance is in a way timeless and it is a coming together of not only hearts but minds.
MY REVIEW
I loved that Beth is the bad girl because there are too many times when it's a bad boy and good girl. It was nice to see that changed around. This also has one of the
most
romantic scenes of all time... all I shall say is RAIN. *sigh* I really do love Ryan.
MY REVIEW
Barrons. Barrons. Barrons. In no way shape or form can you call Barrons a romantic guy but him and Mac are on fire when together. Their romance is more like an 18 wheeler truck hitting you head on but it is still a romance that must be experienced.
MY REVIEW
Abby and Travis. Holy hot and heavy! There has never been a better name for a book. These two together are in fact a Beautiful Disaster. I loved their story and very much enjoyed being able to see their romance unfold. Every tragic and beautiful part of it.
MY REVIEW
Lucas and Jacqueline took me by surprise. I fell in love with these two. Lucas is beyond sexy and sweet. I loved that he wasn't all 'Alpha Male' with Jacqueline... he helped her become a stronger person and actually showed her how to take care of herself.
MY REVIEW
Nastya and Josh are perfect for each other. The romance in this book is so very touching. They help each other through all the crap that life has thrown at them and again it has one of my favorite scenes... the fountain and the pennies. *sigh*
MY REVIEW
Holder and Sky. If you have read this book then I could probably just leave it at those names and you would understand. This was easily one of my favorite books of 2012. This also happens to have the very best first non-kiss in the history of non-kisses. If you have read it then you know, if you haven't... go read this book!
MY REVIEW
So there you go... this weeks Top Ten! What is yours?



Feel free to leave your links below so that I can check them out and if you are a new follower be sure to let me know so that I can come and check out your blog in return!