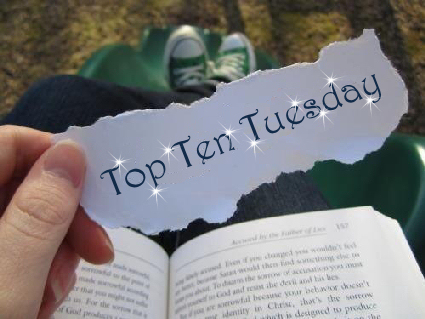 Hosted by Broke and The Bookish
This Week's Topic is:
Top Ten Authors That I'd Put On My Auto-Buy List
Colleen Hoover
There will never be a book that Colleen writes that I will not immediately read. Whether it is Young Adult, New Adult, Romance... it doesn't matter. She is a genius with words and undoubtedly knows how to tell a story
Favorite
: Very hard to choose, I equally love
Hopeless
,
Slammed
and
Point of Retreat
. But if I must choose then it would have to be Point of Retreat because I loved the story being from Will's point of view, I just love him so much. Oh but then I love Lake and Will in Slammed so much... and I adore Sky and Holder in Hopeless. oooOOOooohhh it is just too difficult to choose.
Jennifer L. Armentrout / J. Lynn
I have mentioned in my reviews of her books that I would rad the phone book if I found out that Jennifer was writing it. Most of the authors on my list know how to write good boys but Jennifer is probably the queen in this category. Daemon Black, Aiden St. Delphi... do I need to go on?
Favorite
: Love them all but I must choose
Deity
, it was amazing. It is also where I fell head over heals in love with Aiden.
Karen Marie Moning
How could I not have the person who breathed life into Jericho Barrons on this list? I love her Fever series... whether it is told from Mac's point of view or Dani's I just love the world she has created.
Favorite
:
Dreamfever
without a doubt. The first 15% of that book changed everything and it was oooOOOooohhh so hot.
Aleatha Romig
Wow. Aleatha managed to blow my mind in her debut novel
Consequences
and then she managed to flip everything I believed on its head when I read
Truth
. I have forced so many people I know to read these books and so far every single one of them have loved them as much as I do.... well maybe not as much because I can officially call myself obsessed. Tony, Tony, Tony... whatever are we gong to do with you? I'm not sure yet but I have a lot of ideas.
Favorite
: Both were amazing but I would have to go with Truth simply because it was amazing. If Consequences blew my mind I can't even describe the emotions I went through while reading Truth. Just wow.
Katie McGarry
Katie has a way with words and she pulls you into the story. I am not ashamed to say that I cry quite often while I am reading... my friends call me soft but if the writing is amazing I get so engulfed in the story that I tend to feel every emotion right along with the characters. These books are no exception, you cry along with the bad and you cry along with the good. Katie also writes very special romantic scenes. I can't wait for everybody to get the chance to read Dare You To because the scene with Ryan, Beth and the rain will stay will be forever. Such a special moment between two great characters.
Favorite:
Pushing the Limits
was amazing and I simply adored
Dare You To
so it would be impossible for me to choose. But again if I must choose then I would say that Ryan Stone slightly tips the scale in the favor of Dare You To.
Deborah Harkness
A Discovery of Witches
and
Shadow of Night
are spectacular. Deborah blends magic, science and history effortlessly. She takes you on a magical ride and you fall in love with every single character. Marcus,
Gallowglass... I could go on and on. Regardless of who it was if she were to have a spin-off series with any of the side characters I would read them without question.
Favorite
: A Discovery of Witches started it all so I would have to choose it.
Michelle Hodkin
The mystery, the intrigue, the suspense... I did not know a lot about the Mara Dyer series before I started it and I am so glad I didn't. These books were amazing and I am on a serious countdown to The Retribution of Mara Dyer. Oh, and have I mentioned my absolute love of a things Noah Shaw? Love him to bits.
Favorite
: Even though it is the second book in the series I would have to pick
The Evolution of Mara Dyer
.
Abbi Glines
I am knew to Abbi's work and sadly haven't been able to read them all yet but every last one of them is on my TBR list. I fell in love with Beau Sawyer in the Vincent Boys first but then... then I met Rush. *swoon* Abbi writes good boys.
Favorite
:
Fallen Too Far
without a doubt. I love me some
Vincent Boys
but wow oh wow... Rush Finlay. That is all that needs to be said.
Cassandra Clare
It may seem strange to have Cassandra on this list when she has a series, The Infernal Devices, that I haven't yet started. I am waiting until closer to the release date of The Clockwork Princess and yes I know this is showing some major constraint. Thankfully we are not that far away from its release which means that I will be able to start them shortly... I can't wait.
Favorite
: This is easy,
City of Glass
. Loved, loved, loved that book and even though I was happy to see the series continued I kinda wish she would have kept it a trilogy. It was just so perfect...
Sophie Kinsella
Love Sophie. There isn't a book that she has written (as Sophie Kinsella) that I have not enjoyed. Her Shopaholic series is hilarious and Becky Bloomwood will always be one of my favorite characters. To me she is and always will be the chick lit queen... even though I hate the term 'chick lit'.
Favorite
: As much as I love Becky Bloomwood and Sophie has so many books that I love but I would have to go with
Twenties Girl
. It was such a sweet book it had been a while since I had read a Kinsella novel so it was a joy to get back into her wonderful writing.
So there you go... this weeks Top Ten! What is yours?

Feel free to leave your links below so that I can check them out and if you are a new follower be sure to let me know so that I can come and check out your blog in return!