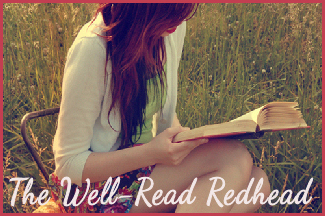 My name is Kelly, and I currently hail from Upstate New York (grew up in Connecticut). I'm allowed to say that I'm under 30 for another 10 months or so. I've been married for 5 years, have a 17-month-old son (Small Fry on the blog), and work part-time at a university when I'm not home chasing him around.
When and why did you become a book blogger?
I toyed with the idea for a long time. I've been an avid reader since childhood, and I love talking about books. I have several friends that come to me for book recommendations pretty frequently. So I figured, why not share my love with the world?? I started it up in August 2012 and have been neck-deep in it ever since. Since I joined, I've also become enamored with the friendliness of the book blogging community as a whole, which has added to the appeal.
How did you come up with the name of your blog?
It's no secret that I have red hair. It's been a distinguishing feature all my life. Red rhymes with read = BOOM!
What is your favorite thing about blogging?
Reading an awesome book, posting a review for it, and inspiring other people to read it as a result. That's especially how I felt when I reviewed
Gone Girl
. I can't share my love for that book enough!
What do you find the hardest about blogging?
Time. With my husband, son, and job (not to mention time to work out, eat, sleep...), I already have a busy schedule, so fitting in extra reading, reviewing, and networking time can be really hard. I try to be realistic though, and I just do what I have time for.
Does your blog participate in any weekly features and if so which is your favorite?
Well, I started my own weekly feature called
Small Fry Saturdays
, in which I review some of the books my toddler is currently reading with me. It's a lot of fun for me, because at this age, his preferences change by the day! I always have something new to share.
For other memes, I've participated in several, but the one I do most consistently is
Wondrous Words Wednesday
with BermudaOnion. I am a total word nerd, and I love posting about new words that I encounter while reading. I also enjoy
Brittany's Deja Vu Review
, on Sundays at The Book Addict's Guide.
What has been your favorite moment since you became a book blogger? Which review, interview or giveaway have you been most proud of?
In 5 months, I've already had a lot of fun moments! I'll admit that I got very fangirly when Jane Green tweeted out a link to
my review of The Beach House
. And I think my favorite review/giveaway so far has been for
Ken Kesey's One Flew Over The Cuckoo's Nest
. It was part of Banned Book Week, and I had great time participating in that event this year.
What kind of genres do you enjoy reading and reviewing the most?
I definitely gravitate towards women's fiction/contemporary fiction the most. Jodi Picoult, Jane Green, Emily Giffin, Lisa Genova, etc. I love family drama, what can I say.
However, I also love nonfiction (Anthony Bourdain, Michael Pollan, Jon Krakauer), and I am an unapologetic Stephen King fanatic.
What is your favorite individual book or series? What makes you love it so much?
How do I pick just ONE? Honestly though, I usually tell people that
The Time Traveler's Wife
by Audrey Niffenegger is my favorite novel. Which is funny, because I'm not big on romance most of the time. But the relationship between Henry and Clare is so unique and ethereal...I adore it. I think the movie didn't do it justice.
Who is your favorite fictional male character, why and from what book or series are they from?
I recently read
A Wrinkle in Time
by Madeleine L'Engle, and I am positively adoring Charles Wallace. That kid is amazing!
Who is your favorite fictional female character, why and from what book or series are they from?
Hmmm...I think I have to go with Lisbeth Salander from
The Girl with the Dragon Tattoo
series. She is the perfect mix of brilliant and bad-ass.
Who are your favorite three authors and why?
Jodi Picoult
~ She writes completely awesome-sauce family dramas.
Stephen King
~ I will literally read anything this man writes. I would read a phone bill if he wrote it himself.
Jon Krakauer
~ He is my king of nonfiction. He chooses really captivating topics, and researches the heck out of them. I always feel enlightened when I finish one of his books.
If you could turn one book or series into films, what would you pick and who would you cast as the main characters?
Apparently Gone Girl is already being worked on as a movie, but I heard Reese Witherspoon is going to star, and I just can't get my mind around that. I'd love to see Rachel McAdams as Amy, and Bradley Cooper as Nick. Maybe Rooney Mara or Eliza Dushku as Go.
What books are you most looking forward to in 2013?
I just recently did
a post
about this!
Doctor Sleep
by Stephen King,
Cooked
by Michael Pollan, and
The Storyteller
by Jodi Picoult are a few of my picks.
Paper books or ebooks?
I never thought I'd say it, but I'm becoming more of an e-book fan. I LOVE book smell, but paper books take up so much room in my already-cluttered house!
Where is your favorite place to read?
Either my bed (with a glass of wine), or at my local library. They have great reading nooks.
Milk chocolate, white chocolate or dark chocolate?
Milk chocolate, and lots of it.
Coffee, hot tea or hot chocolate?
Not a huge fan of any of them (I prefer my liquid drugs in alcohol form), but I'll drink flavored coffees once in a while.
Would you like to give any other details about yourself? How can others find you around the web? Such as Facebook, Twitter, Goodreads, etc...
Blog:
http://www.thewellreadredhead.com
Twitter:
https://twitter.com/TheWRRedhead
Goodreads:
http://www.goodreads.com/user/show/306944-kelly-thewellreadredhead