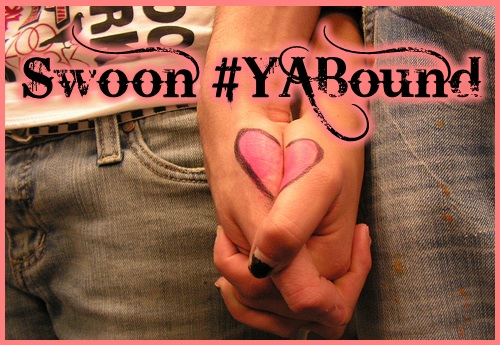 Who doesn't love a good swoon?
The ladies over at YA Bound have created this hot and fun meme!
If you want to join in here's all you need to do.
From the book you're currently reading, or one you just finished, tell us what made you SWOON. What got your heart pounding, your skin tingling and your stomach fluttering?
Then pick a smaller portion of your swoon and tweet it, just don't forget to add the #YABOUND Hashtag to your tweet!

I have fallen in love with Ethan and Lena. Why, oh why, did it take me so long to start this series? Ethan is just the sweetest guy and I love that it is from his point of view. I just want nothing more than for these two to have a happy ever after... together.
By lunch, I couldn't take anymore. I waited for her to come out of Trig and I pulled her over to the side of the hall, dropping my backpack to the floor. I took her face in my hands, and drew her in to me.

"Ethan, what are you doing?"

"This."

I pulled her face into mine with both hands. When our lips touched, I could feel the warmth from my body seep into the coldness of hers. I could feel her body melting into mine, the inexplicable pull that had bound us together from the beginning, bringing us together again.

Lena dropped her books and wrapped her arms around my neck, responding to my touch.
What is your swoon worthy moment this week?
Feel free to leave your links below so that I can check them out and if you are a new follower be sure to let me know so that I can come and check out your blog in return!