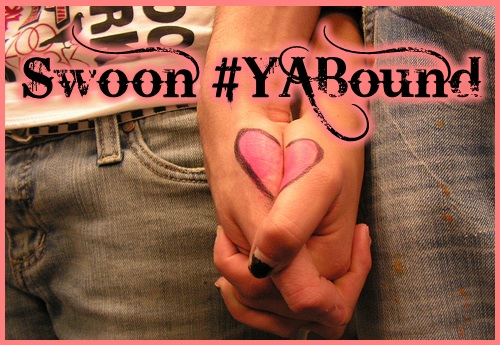 Who doesn't love a good swoon?
The ladies over at YA Bound have created this hot and fun meme!
If you want to join in here's all you need to do.
From the book you're currently reading, or one you just finished, tell us what made you SWOON. What got your heart pounding, your skin tingling and your stomach fluttering?
Then pick a smaller portion of your swoon and tweet it, just don't forget to add the #YABOUND Hashtag to your tweet!
My jaw locked in irritation. If he'd been a character in a book, I would have hated his dirty mouth. As it was my body loved his dirty mouth. No need to tell him that.

"You know, Braden, I've watched you over the last few months and you're such a gentleman to everyone but me. What's with that?"

"I want you in my bed. Gentlemen are boring in bed."

Good point.
"Gentlemen are gentlemen in bed. They make sure you're having a good time."

"I'll make sure you're having a good time, and that you're okay with everything we're doing. I just won't be well-mannered about it."
And just in case my Swoon doesn't convince you...
On Dublin Street
is HOT! The chemestry between Jocelyn and Braden is electric and I am enjoying it immensely.
What is your swoon worthy moment this week?
Feel free to leave your links below so that I can check them out and if you are a new follower be sure to let me know!