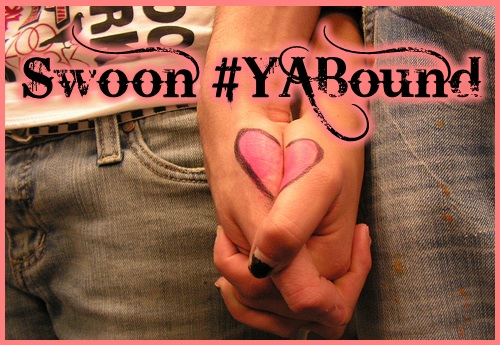 Who doesn't love a good swoon?
The ladies over at YA Bound have created this hot and fun meme!
If you want to join in here's all you need to do.
From the book you're currently reading, or one you just finished, tell us what made you SWOON. What got your heart pounding, your skin tingling and your stomach fluttering?
Then pick a smaller portion of your swoon and tweet it, just don't forget to add the #YABOUND Hashtag to your tweet!
Sadly I have been a bit MIA lately. It has been one week and one day since I read anything and I think I am slowly going insane... how do people live without books in their lives? I'm amazed at how much I have missed my Kindle, honestly!
So why the self imposed ban on reading you may ask? DIY. Yuck! My husband and I have been in our house a year now and we never finished decorating the hall, stairs and landing. The stairs were a dark mahogany and I hated them. They have now been sanded, primed and glossed white. The walls have been painted brown and new carpet is scheduled to be fitted today! Yes I know... fitted on Thanksgiving but I am in England so it is business as usual for them. I am American and my husband and I do take the week off and I still celebrate it with a big meal but it was the only day they could come and fit the carpet so I had to agree. We will still be able to eat after they are gone and with new carpet it will just give me one more thing to be thankful for. I have been documenting my
torture
progress over the last week so if you are interested in seeing what I have done so far please feel free to take a look. This is a link to my Facebook album and it says it is shareable so hopefully it works.
Anyway... back to my Swoon! Since On Dublin Street is still the last book I have read my choice will be from it again. But that is okay because I loved this book SO much I could share swoon after swoon with you. This is Jocelyn describing Braden...
Enjoy!
The Suit wasn't classically handsome, but there was a twinkle in his eye and curl to the corner of his sensual mouth that, together with the rest of the package, oozed sex appeal. Perhaps in his late twenties or early thirties, I could tell from the lines of the extremely well-tailored, expensive silver-grey suit that he wore, that the Suit worked out. He sat with the ease of a fit guy, his stomach iron flat under the waistcoat and white shirt. His pale blue eyes seemed bemused beneath their long lashes, and for the life of me I couldn't get over the fact that he had dark hair.

I preferred blondes. Always had. Yet none of them had ever made my lower belly squeeze with lust at first sight of them. A strong masculine face stared into mine--sharp jaw-line, a cleft chin, wide cheekbones, and a roman nose. Dark stubble shadowed his cheeks, and his hair was kind of messy. Altogether, his rugged unkemptness seemed at odds with the stylish designer suit.
What is your swoon worthy moment this week?
Feel free to leave your links below so that I can check them out and if you are a new follower be sure to let me know so that I can come and check out your blog in return!