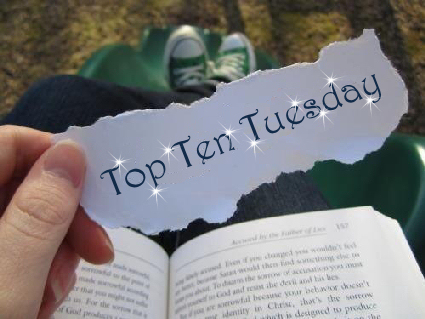 Hosted by Broke and The Bookish
This Week's Topic is:
Top Ten Most Intimidating Books (might be intimated by size, content, that everyone else loves it but you are sure you won't etc)
REASON: The number of them in the series... There are just so many. However, with the first movie due out in February 2014, I'm sure I will get around to them soon enough.
REASON: The ending. I know there will be tears. It is very difficult for me to start a book knowing I will be sad. Sad in the middle is okay, as long as there is a happy ending. I know everybody says it is worth the sadness... but it is very intimidating.
REASON: Subject matter. Same with The Fault in our Stars, if I know going in my heart will be broken it is very difficult for me to start. How do you go into a book knowing your heart is going to be ripped out?
REASON: Again, the number of them in the Black Dagger Brotherhood series. I've heard good things, but there are just soooooo many of them. I think I'm going to start it, but then I see the number of books in my TBR pile and talk myself out of it.
REASON: The subject matter. I know this will be an emotional roller coaster. I am meeting the author in November at the London Author Event, so I will read them before that. I just need to be in the mood for the emotional torment.
REASON: Love the TV show, and I'm sure I would love the books. However, fantasy just seems to have soooo many characters. It makes me nervous to think of having to keep track of them all.
REASON: 13 books? Plus, I love the TV show but I have heard a lot of people say the TV show is better than the books. Maybe, I'm better not starting them now? Maybe I will just stick to the show...
REASON: I've heard good and bad things about this series. I love Karen Marie Moning's Fever series, and I know she can write a good alpha male character. But again, there are just so many of them already.
REASON: Subject matter again. I know in the end I will enjoy it, just need to be in the mood for the emotional turmoil that it will produce. I vow to read it this year though, promise.
REASON: The ending. I've heard this ends on a HUGE cliffhanger. I will happily wait until closer for book number two.
So there you go... this weeks Top Ten! What is yours?

Feel free to leave your links below so that I can check them out and if you are a new follower be sure to let me know so that I can come and check out your blog in return!