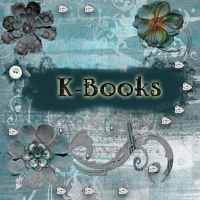 Hey I'm Kayleigh, I live in North East of England and I am a recently qualified Teacher teaching Psychology in Colleges and Literacy in Adult Community Centres.
When and why did you become a book blogger?
I became a blogger in February 2011. I decided to blog because I just love reading and sharing the book love. A friend of mine told me about the blogs she follows and after reading some them I decided to start my own. I already wrote short reviews on Goodreads and Amazon so it wasn't like I had to start from scratch with the reviewing side of it.
How did you come up with the name of your blog?
I am possibly the most uncreative person ever and the name of my blog is so uncreative and unoriginal. I sat for hours trying to think up a name for my blog and I really couldn't think of anything. I ended up naming it K-Books. K after the initial of my first name and Books because it is a blog dedicated to books.
What is your favorite thing about blogging?
Without a doubt the community. It's an amazing thing. Getting to know other bloggers, authors, publicists etc on a personal level is just incredible. I love them all so much and I consider the majority of the bloggers and authors I have met close friends and they are like a bookish family to me even though they live halfway across the world from me.
What do you find the hardest about blogging?
The review books. I know it's stupid right? It's such a privilege for authors and publishers to send me books to review and I love reviewing them for them but sometimes I feel like I'm losing interest in reading purely because I feel like I have to read them rather than want to. I'm gradually learning to find a balance between blog tours and review books and reading the books I have bought as well.
Another thing I find hard is juggling my personal life and blogging. My lifestyle is pretty hectic with University and now my upcoming teaching job and blogging can be really time consuming. I find it can sometimes be stressful trying to fit reading, reviewing, blog tours and my personal job in. Again I am trying hard to find a good balance. It's a working progress.
Does your blog participate in any weekly features and if so which is your favorite?
I used to all the time. With university I stopped doing them for a while but am trying to get back into it. I do a book haul weekly and also Waiting on Wednesday. I love them both equally. I especially love stalking my other favourite blogs to see what books they have gained each week and what they are looking forward to as well. Waiting on Wednesday takes me forever though because there are so many books I am looking forward to I can never choose which one to feature.
What has been your favorite moment since you became a book blogger? Which review, interview or giveaway have you been most proud of?
Erm… that's a tough question. I think my favourite moments have to be working with Spencer Hill Press. They are incredible and getting to know them all on a personal level is incredible. I adore all of their pubicists and authors and I just adore everything about them. They are incredible to work with.
Another moment was when I got to interview my favourite author in the world, Jennifer L Armentrout. And of course getting to know all the other bloggers.
What kind of genres do you enjoy reading and reviewing the most?
My favourite genres are Dystopian, Paranormal Romance, Urban Fantasy Contemporary and mythology. Really I have a really open mind and will read anything apart from erotica and historical. I just don't enjoy reading those. I love YA, NA and Adult books.
What is your favorite individual book or series? What makes you love it so much?
It has got to be the Covenant Series by Jennifer L Armentrout. It just has everything. Perfect writing style, a kick-ass female character, a swoon-worthy and drool-worthy guy and the Greek Gods. It's full of super hot chemistry between characters and non-stop action. It's such an incredible series. I could just read it over and over and never get bored.
Who is your favorite fictional male character, why and from what book or series are they from?
It has to be Aiden from JLA's Covenant series. He is just the perfect guy. I find myself just sat grinning like an idiot whenever I am reading a scene with him in. He is amazing.
Who is your favorite fictional female character, why and from what book or series are they from?
Oohh that's a toughy. I think it would have to be Katy from Lux by Jennifer L Armentrout. She is just awesome and snarky. She gives as good as she gets and she's a book blogger. What could be better?
Who are your favorite three authors and why?
Oohh there are so many authors I adore.
Jennifer L Armentrout is without a doubt my number 1 authors.
Wendy Higgins as I just adore her books and she is the sweetest author ever!
And…. Cecelia Ahern. Because her books were the first books I ever read and loved and they made me love reading. If it weren't for her I wouldn't be a book lover and a blogger.
If you could turn one book or series into films, what would you pick and who would you cast as the main characters?
Definitely Covenant by Jennifer L Armentrout (can you see a theme running?) I think it would be a fantastic movie! Full of hot guys, kick-ass girls, non-stop action and a twist of mythical magic.
What has been your favorite book of 2013? Why did you love it?
Oohh that's a toughie. I think it would have to be Crown of Midnight by Sarah J Maas. I just thought it was epic! I could not put it down and it had so many twists and turns that I never saw coming. It left me literally with my jaw on the floor dying for the next book.
What books are you most looking forward to in 2013?
I cannot wait for Origin (Lux #4) and Sentinel (Covenant #5) by Jennifer L Armentrout. I also cannot wait for Perfection by JL Spelbring, The Dollhouse Asylum by Mary Gray, Reclaimed by Sarah Guillory, Fireblood by Trisha Wolfe and Extracted by Sherry Ficklin and Tyler Jolley. As well as all of the upcoming JLA books.
Paper books or ebooks?
Paperbooks
Where is your favorite place to read?
In the living room with a cup of coffee and my dog.
Milk chocolate, white chocolate or dark chocolate?
Milk Chocolate
Coffee, hot tea or hot chocolate?
Coffee
Would you like to give any other details about yourself? How can others find you around the web? Such as Facebook, Twitter, Goodreads, etc...
Blog:
http://k-booksxo.blogspot.co.uk
Twitter:
http://twitter.com/K__Books
Facebook:
http://www.facebook.com/pages/K-Books/247869598566771
Goodreads:
http://www.goodreads.com/Kayley_12
YouTube:
http://www.youtube.com/user/KBooksxoxo