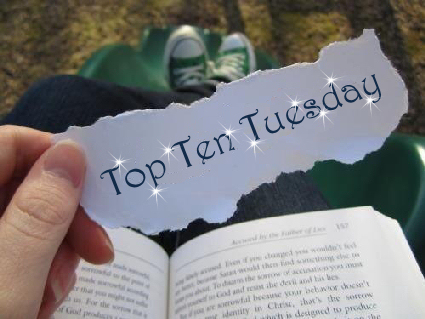 Hosted by Broke and The Bookish
This Week's Topic is:
Top Ten Books At The Top Of My Summer TBR List
In Hopeless, Sky left no secret unearthed, no feeling unshared, and no memory forgotten, but Holder's past remained a mystery.

Still haunted by the little girl he let walk away, Holder has spent his entire life searching for her in an attempt to finally rid himself of the crushing guilt he has felt for years. But he could not have anticipated that the moment they reconnect, even greater remorse would overwhelm him…

Sometimes in life, if we wish to move forward, we must first dig deep into our past and make amends. In Losing Hope, bestselling author Colleen Hoover reveals what was going on inside Holder's head during all those hopeless moments—and whether he can gain the peace he desperately needs.
What does it take to rise from life's depths, swim against the current, and breathe?

Weighted down by the loss of her parents, Blythe McGuire struggles to keep her head above water as she trudges through her last year at Matthews College. Then a chance meeting sends Blythe crashing into something she doesn't expect—an undeniable attraction to a dark-haired senior named Chris Shepherd, whose past may be even more complicated than her own. As their relationship deepens, Chris pulls Blythe out of the stupor she's been in since the night a fire took half her family. She begins to heal, and even, haltingly, to love this guy who helps her find new paths to pleasure and self-discovery. But as Blythe moves into calmer waters, she realizes Chris is the one still strangled by his family's traumatic history. As dark currents threaten to pull him under, Blythe may be the only person who can keep him from drowning.
Seventeen-year-old Caymen Meyers studies the rich like her own personal science experiment, and after years of observation she's pretty sure they're only good for one thing—spending money on useless stuff, like the porcelain dolls in her mother's shop.

So when Xander Spence walks into the store to pick up a doll for his grandmother, it only takes one glance for Caymen to figure out he's oozing rich. Despite his charming ways and that he's one of the first people who actually gets her, she's smart enough to know his interest won't last. Because if there's one thing she's learned from her mother's warnings, it's that the rich have a short attention span. But Xander keeps coming around, despite her best efforts to scare him off. And much to her dismay, she's beginning to enjoy his company.

She knows her mom can't find out—she wouldn't approve. She'd much rather Caymen hang out with the local rocker who hasn't been raised by money. But just when Xander's attention and loyalty are about to convince Caymen that being rich isn't a character flaw, she finds out that money is a much bigger part of their relationship than she'd ever realized. And that Xander's not the only one she should've been worried about.
For twenty-one-year-old Sydney, being in love with Kyler isn't anything new. They'd been best friends ever since he pushed her down on the playground and she made him eat a mud pie. Somewhere over the years, she fell for him and fell hard. The big problem with that? Kyler puts the 'man' in man-whore. He's never stayed with a girl longer than a few nights, and with it being their last year in college, Syd doesn't want to risk their friendship by declaring her love.

Kyler has always put Syd on a pedestal that was too high for him to reach. To him, she's perfect and she's everything. But the feelings he has for her, he's always hidden away or focused on any other female. After all, Kyler will always be the poor boy from the wrong side of tracks, and Syd will always be the one girl he can never have.

But when they're stranded together at a posh ski resort due to a massive Nor'easter, there's nothing stopping their red-hot feelings for each other from coming to the surface. Can their friendship survive the attraction? Better yet, can they survive at all? Because as the snow falls, someone is stalking them, and this ski trip may be a life-changer in more ways than one.
You stop fearing the devil when you're holding his hand…

Nothing much exciting rolls through Violet White's sleepy, seaside town…until River West comes along. River rents the guesthouse behind Violet's crumbling estate, and as eerie, grim things start to happen, Violet begins to wonder about the boy living in her backyard. Is River just a crooked-smiling liar with pretty eyes and a mysterious past? Or could he be something more? Violet's grandmother always warned her about the Devil, but she never said he could be a dark-haired boy who takes naps in the sun, who likes coffee, who kisses you in a cemetery...who makes you want to kiss back. Violet's already so knee-deep in love, she can't see straight. And that's just how River likes it.

Blending faded decadence and the thrilling dread of gothic horror, April Genevieve Tucholke weaves a dreamy, twisting contemporary romance, as gorgeously told as it is terrifying—a debut to watch.
Sometimes the right choice can be the deadliest.

When Ellie Watt made the ultimate sacrifice for Camden McQueen, she never thought it would be easy. But walking away with her ex-lover, Javier Bernal, in order to ensure Camden's safety has brought a whole new set of dangers. With Javier's plans for Ellie growing more secretive by the moment, Ellie must find a way to stay ahead of the game before her past swallows her whole.

Meanwhile, Camden's new life is short-lived. Fueled by revenge and pursued by authorities, he teams up with an unlikely partner in order to save Ellie. But as Camden toes the line between love and retribution, he realizes that in order to get back the woman he loves, he may have to lose himself in the process. He might just turn into the very man he's hunting.

Told in dual POV from Camden and Ellie.
Live young. Live hard. Love deep.

Charley Redford was just an ordinary girl until Jake Caplin moved to her small town in Indiana and convinced her she was extraordinary. Almost from day one Jake pulled Charley into the deep and promised he was right there with her. But when a tragic incident darkened Jake's life he waded out into the shallows and left Charley behind.

Almost four years later Charley thinks she's moved on. That is until she takes a study year abroad in Edinburgh and bumps into none other than Jake Caplin at a party with his new girlfriend. The bad-boy-turned-good attempts to convince Charley to forgive him, and as her best friend starts spending time with Jake's, Charley calls a truce, only to find herself tumbling back into a friendship with him.

As they grow closer, the spark between them flares and begins playing havoc with their lives and relationships. When jealousy and longing rear their destructive heads, Charley and Jake struggle to come to grips with what they mean to one another.

And even if they work it out, there is no guarantee Charley will ever trust Jake to lead her back into the deep…
There's optimistic. And there's Jesse Walker.

If he wasn't so charming, his sunny disposition and incessant grin would get annoying. Fast.

Falling in love with the girl who had at first seemed immune to it, was the best thing to happen to Jesse since the Walkers adopted him into their family when he was five. But loving the girl who has her fair share of secrets is about as easy as that same girl loving the boy who seems to have none.

As Jesse's life continues at the ranch, and Rowen begins making her mark in the Seattle art community, they begin to wonder where the middle ground is. Or if there even is one.

As push comes to shove and choices aren't only needing to be made, but forced to be made, Jesse and Rowen have to face what their lives might look like without the other.

Can two people with such tragic pasts and different presents, go on to expect a promising future? Whatever the answer, they'll need a lot more than love to make it.
An assassin's loyalties are always in doubt. But her heart never wavers.

After a year of hard labor in the Salt Mines of Endovier, eighteen-year-old assassin Celaena Sardothien has won the king's contest to become the new royal assassin. Yet Celaena is far from loyal to the crown – a secret she hides from even her most intimate confidantes.

Keeping up the deadly charade—while pretending to do the king's bidding—will test her in frightening new ways, especially when she's given a task that could jeopardize everything she's come to care for. And there are far more dangerous forces gathering on the horizon -- forces that threaten to destroy her entire world, and will surely force Celaena to make a choice.

Where do the assassin's loyalties lie, and who is she most willing to fight for?
Bad boy, meet bad girl.

Dante has a shiny new cuff wrapped around his ankle, and he doesn't like that mess one bit. His new accessory comes straight from Big Guy himself and marks the former demon as a liberator. Despite his gritty past and bad boy ways, Dante Walker has been granted a second chance.

When Dante is given his first mission as a liberator to save the soul of seventeen-year-old Aspen, he knows he's got this. But Aspen reminds him of the rebellious life he used to live and is making it difficult to resist sinful temptations. Though Dante is committed to living clean for his girlfriend Charlie, this dude's been a playboy for far too long…and old demons die hard.

With Charlie becoming the girl she was never able to be pre-makeover and Aspen showing him how delicious it feels to embrace his inner beast, Dante will have to go somewhere he never thought he'd return to in order to accomplish the impossible: save the girl he's been assigned to, and keep the girl he loves.
So there you go... this weeks Top Ten! What is yours?

Feel free to leave your links below so that I can check them out and if you are a new follower be sure to let me know so that I can come and check out your blog in return!