SYNOPSIS
Running away from his old life in New York City, Lincoln Bracks ends up in the small town of Statlen, Iowa. He isn't interested in making friends or getting to know anyone. He just wants to keep his head down and disappear amongst the crowd. That was the plan anyway, until he meets Hadie Swinton.

Nursing a broken heart and the realization that the boy she's loved her entire life isn't Prince Charming, Hadie is set against ever falling for the same type of guy again. But when new boy, Lincoln, arrives in town, she discovers that this is easier said than done. Hadie assumes that Lincoln is a typical arrogant jock—he is good-looking, confident and charming—but when he doesn't do anything she expects him to, she is intrigued by him against her better judgment.

There is definitely more to Lincoln than just a pretty face, but Lincoln is hiding something that he doesn't want anybody to discover because when they do, they will never look at him the same again. Falling in love was the last thing Lincoln wanted to do, so how will he convince himself to fall out of it?

Recommended for mature readers aged 17+ due to language and sexual content.

PURCHASE LINKS
Amazon US | Amazon UK
Add to Goodreads


EXCERPT
As I rounded the corner onto Waterview Crescent, I stopped in my tracks when I saw a familiar figure walking in my direction.
No. No way. I couldn't seriously be that unlucky, could I?
When Lincoln caught sight of me, he slowed down and stopped, flashing me a grin that I wanted to knock off his face. I suddenly became conscious of the bike shorts and tank top I was wearing. Then my eyes shot to him, and I tried not to stare.
Okay, well, I kinda was staring, but I didn't want to. That had to count for something, didn't it?
Lincoln was dressed in gym shorts and a white wife beater that stretched across his muscular chest and displayed his arms for the world to see. Obviously, the guy was confident about his body which just made him come across as arrogant and self-assured. The kind of guy I wanted nothing to do with.
"Hairdresser?" he asked, seeming surprised. "What are you doing here?"
Was this guy dumb too?
I pointed at Halo. "Obviously, I'm walking my dog. And I've already told you, my name is Hadie."
Lincoln ignored me and bent down on one knee so he was at eye-level with Halo. Halo began sniffing his shoes cautiously. I was kind of hoping he'd take a bite out of Lincoln's face, but instead he began licking Lincoln's outstretched hand.
My dog was a complete traitor.
"Hey, buddy," Lincoln was saying in a voice you would normally use to address an infant under the age of five. "What's your name?"
"Halo," I spat out.
Lincoln stood up and smirked. "I don't believe it. Hades has a dog named Halo. What are the odds?"
"You are seriously messed up, you know that? My name is Hadie, not Hades, so stop calling me that." I gave him my best glare.
"Why are you so uppity?" Lincoln asked, drawing closer to me.
His proximity to me made me uneasy, and I inhaled sharply and took a step back. "I am not uppity. I just don't like arrogant jerks."
Lincoln raised an eyebrow. "You think I'm an arrogant jerk?"
"I don't think you're an arrogant jerk; I know it."
"Oh, yeah? How do you know that?"
I tapped a finger against my chin as if contemplating his question, even though I already knew the answer. He watched me in amusement, and, for some reason, it bothered me the way he was studying me.
"Hmm, it couldn't have anything to do with the fact that you told me you're used to girls throwing themselves at you, and then you implied that I was one of those girls. I get that you're hot and everything, but-"
I stopped mid-sentence as a broad grin spread across Lincoln's face.
"What?" I demanded.
"You think I'm hot?" he asked, leaning in so close that I forgot to breathe.
The way he was looking at me made my stomach flip backwards. For a moment, we just looked at each other, our breaths entangling in the cold air—neither of us said a word. Something unspoken was passing between us, making my heart thrum and my hands shake.
Coming to my senses, I placed a hand on the center of his firm chest and pushed him back. When Lincoln was that close it made it hard to think.
"That's not the point," I argued. "The point is that I know your type and I don't like your type, so stay away from me."
Lincoln's smile faded and he actually looked hurt for a moment. He turned to the side, lost in thought. For a second, I couldn't help but admire his profile—the strong jaw, the straight and narrow nose and the thick, dark lashes that stood out against his face.
When he turned back to me, those azure eyes were on fire. The look in them was so scorching, so intense, that my knees went weak. It felt like the wind had been knocked out of me. No one had ever looked at me like that before.
"It's going to be hard to stay away from you, Hadie."
My breath caught in my throat, and I swallowed. "W-why?"
Lincoln tilted his head to the side. "Because you're…" He trailed off, the words hanging in the air.
"I'm what?" I squeaked.
It was amazing the affect Lincoln was having on me. I'd been adamant that I would stay away from him, that I wouldn't get close to him, but he was making that increasingly difficult for me. The boy was definitely attractive and now I knew how Mariah had felt earlier on.
A smile lurked around his mouth. "Because you're my buddy for the week."
The spell between us broke instantly, and I took another step back and glared at him. "I'd rather stab myself in the eye repeatedly with a hot poker."
Lincoln laughed, raising his hands in front of him. "Whoa, settle down there, Hades. No need to get your panties in a bunch."
My mouth fell open and I pushed him back again. I couldn't believe the audacity of this guy. "You are so gauche!"
Lincoln raised an eyebrow. "I'm a what now?"
"Look it up in the dictionary!" I snapped, and stormed back the way I'd come.

MEET THE AUTHOR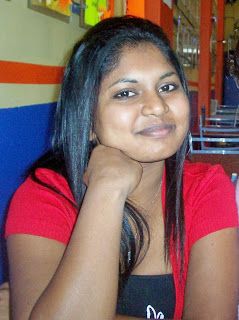 Komal Kant is the author of IMPOSSIBLE, FALLING FOR HADIE, and the upcoming WRONG SIDE OF TOWN. She currently lives in Sydney, but wishes she lived all over the world. You can tell she is weird because her days are filled with talking to imaginary characters and trying to justify choosing Stefan over Damon.
Komal talks too much, laughs too loud, sings out-of-tune, and generally says inappropriate things at appropriate times. She is not-in-a-creepy-way obsessed with blood and gore, so The Walking Dead is probably her favourite show at the moment. She is overly enthusiastic about video games, Spiderman, Batman films, Byronic heroes, horror movies, baking, and pretty shoes.

US ONLY
a Rafflecopter giveaway