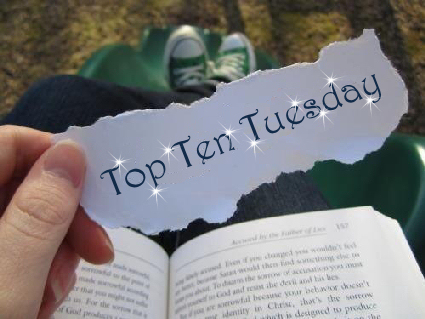 Hosted by Broke and The Bookish
This Week's Topic is:
Top Ten Beach Reads (however YOU define a beach read!)
I define a beach read as a fun and easy book that leaves a big ole smile on your face for most of the time. Here are top picks.
MY REVIEW
Drew Evans is a winner. Handsome and arrogant, he makes multimillion dollar business deals and seduces New York's most beautiful women with just a smile. He has loyal friends and an indulgent family. So why has he been shuttered in his apartment for seven days, miserable and depressed?
He'll tell you he has the flu.
But we all know that's not really true.
Katherine Brooks is brilliant, beautiful and ambitious. She refuses to let anything - or anyone - derail her path to success. When Kate is hired as the new associate at Drew's father's investment banking firm, every aspect of the dashing playboy's life is thrown into a tailspin. The professional competition she brings is unnerving, his attraction to her is distracting, his failure to entice her into his bed is exasperating.
Then, just when Drew is on the cusp of having everything he wants, his overblown confidence threatens to ruin it all. Will he be able untangle his feelings of lust and tenderness, frustration and fulfillment? Will he rise to the most important challenge of his life?
Can Drew Evans win at love?
MY REVIEW
He was tall, at least six feet, with dirty blond hair that hung over his eyes. His T-shirt read Nietzsche Is My Homeboy.
So, that was Matt. Who Julie Seagle likes. A lot. But there is also Finn. Who she flat out loves.
Complicated? Awkward? Completely.
But really, how was this freshly-minted Boston transplant and newbie college freshman supposed to know that she would end up living with the family of an old friend of her mother's? This was all supposed to be temporary. Julie wasn't supposed to be important to the Watkins family, or to fall in love with one of the brothers. Especially the one she's never quite met. But what does that really matter? Finn gets her, like no one ever has before. They have connection.
But here's the thing about love, in all its twisty, bumpy permutations—it always throws you a few curves. And no one ever escapes unscathed.
MY REVIEW
Love. Romance. Sex. There's a first time for everything...
As far as Bliss Edwards can tell, she's the last virgin standing, certainly amongst her friends. And she's determined to deal with the 'problem' as quickly and simply as possible.
But her plan for a no-strings one night stand turns out to be anything but simple. Especially when she arrives for her first class and recognises her hot new British professor.
She'd left him naked in her bed just 8 hours earlier...
MY REVIEW
Caroline Reynolds has a fantastic new apartment in San Francisco, a KitchenAid mixer, and no O (and we're not talking Oprah here, folks). She has a flourishing design career, an office overlooking the bay, a killer zucchini bread recipe, and no O. She has Clive (the best cat ever), great friends, a great rack, and no O.
Adding insult to O-less, since her move, she has an oversexed neighbor with the loudest late-night wallbanging she's ever heard. Each moan, spank, and–was that a meow?–punctuates the fact that not only is she losing sleep, she still has, yep, you guessed it, no O.
Enter Simon Parker. (No, really, Simon, please enter.) When the wallbanging threatens to literally bounce her out of bed, Caroline, clad in sexual frustration and a pink baby-doll nightie, confronts her heard-but-never-seen neighbor. Their late-night hallway encounter has, well, mixed results. Ahem. With walls this thin, the tension's gonna be thick…
MY REVIEW
Anna is looking forward to her senior year in Atlanta, where she has a great job, a loyal best friend, and a crush on the verge of becoming more. Which is why she is less than thrilled about being shipped off to boarding school in Paris--until she meets Étienne St. Clair. Smart, charming, beautiful, Étienne has it all...including a serious girlfriend.
But in the City of Light, wishes have a way of coming true. Will a year of romantic near-misses end with their long-awaited French kiss?
MY REVIEW
Poppy Wyatt has never felt luckier. She is about to marry her ideal man, Magnus Tavish, but in one afternoon her "happily ever after" begins to fall apart. Not only has she lost her engagement ring in a hotel fire drill but in the panic that follows, her phone is stolen. As she paces shakily around the lobby, she spots an abandoned phone in a trash can. Finders keepers! Now she can leave a number for the hotel to contact her when they find her ring. Perfect!
Well, perfect except that the phone's owner, businessman Sam Roxton, doesn't agree. He wants his phone back and doesn't appreciate Poppy reading his messages and wading into his personal life.
What ensues is a hilarious and unpredictable turn of events as Poppy and Sam increasingly upend each other's lives through emails and text messages. As Poppy juggles wedding preparations, mysterious phone calls, and hiding her left hand from Magnus and his parents . . . she soon realizes that she is in for the biggest surprise of her life.
MY REVIEW
She was just a girl, standing in front of a boy . . . wishing he looked more like Hugh Grant.
Scarlett loves the movies. But does she love sensible fiancé David just as much? With a big white wedding on the horizon, Scarlett really should have decided by now . . .
When she has the chance to house-sit in Notting Hill - the setting of one of her favourite movies - Scarlett jumps at the chance. But living life like a movie is trickier than it seems, especially when her new neighbour Sean is so irritating. And so irritatingly handsome, too.
Scarlett soon finds herself starring in a romantic comedy of her very own: but who will end up as the leading man?
MY REVIEW
Gabrielle Willis is smart. She's funny. And oh yes, she's a bit klutzy.
When Gabrielle left sunny California bound for the energy of Manhattan, she was willingly leaving the life she had known for the new life she would create. But was she really leaving something behind or was she running away?
On the outside, Gabrielle Willis has it all under control. A new life in Manhattan, a great roommate, and a good job. But she is haunted. Haunted by a memory she's tried to forget and by a family who's abandoned her. But what happens when what's on the outside is only an illusion and in perfect contradiction to what's buried deep within?
Enter Dane Rhodes. He's gorgeous, smart, and sexy as hell. Just what Gabby wants, or so she thinks. But when she meets Brad Dixon, the sweet guy with the crooked smile, he begins to make her see that the very thing she is trying to run from is the very thing that just may push her to see the light.
MY REVIEW
135,789. That's how many subscribers sixteen-year-old West Ryder has on his web vlog series. But he only has eyes for one of them.
As one of the internet's most prestigious video bloggers, West talks about high school relationships under the name "Sam Green." As far as he knows, no one from school, not even his best friend, Cat, has seen his videos. But the highlight of the whole thing is Harper Knight, who comments every day at exactly 2:02 in the afternoon. He doesn't know anything about her aside from the occasional deep philosophical messaging on why pizza tastes so delicious, but as stupid as it sounds, he might be falling for her. So when they finally agree to meet in real life, West's hope for romance seems more and more in reach. But that all changes as soon as he arrives at their meeting spot and sees Cat walking toward him, wearing the same "I <3 Sam Green" T-shirt Harper promised she'd have on.
To his alarm, West realizes he is falling in love with the best friend who has always been a sister to him.
MY REVIEW
Sometimes, the hardest part of finding love is keeping a straight face…
For Jamie Newman, being a single guy isn't proving to be much fun, especially when confronted with a sexually belligerent divorcee and a goddess so far out of his league she might as well be a different species.
Mind you, being a girl in search of love isn't a bowl of cherries either. Just ask Laura McIntyre, who's recently contended with a horny estate agent on a quest for light relief, and a rabid mountain bike enthusiast with a penchant for genital display.
When Jamie and Laura bump into one another (quite literally) it looks like their luck may have changed – but sometimes finding the right person is only the start of your problems…
So there you go... this weeks Top Ten! What is yours?

Feel free to leave your links below so that I can check them out and if you are a new follower be sure to let me know so that I can come and check out your blog in return!