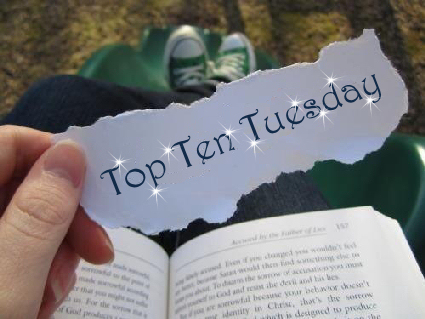 Hosted by Broke and The Bookish
This Week's Topic is:
Top Ten Books I've Read So Far In 2013

There have just been far too many great books this year to pick only Ten...
MY REVIEW OF FLAT-OUT LOVE
He was tall, at least six feet, with dirty blond hair that hung over his eyes. His T-shirt read Nietzsche Is My Homeboy.
So, that was Matt. Who Julie Seagle likes. A lot. But there is also Finn. Who she flat out loves.
Complicated? Awkward? Completely.
But really, how was this freshly-minted Boston transplant and newbie college freshman supposed to know that she would end up living with the family of an old friend of her mother's? This was all supposed to be temporary. Julie wasn't supposed to be important to the Watkins family, or to fall in love with one of the brothers. Especially the one she's never quite met. But what does that really matter? Finn gets her, like no one ever has before. They have connection.
But here's the thing about love, in all its twisty, bumpy permutations—it always throws you a few curves. And no one ever escapes unscathed.
MY REVIEW OF THIS GIRL
There are two sides to every love story. Now hear Will's.
Layken and Will's love has managed to withstand the toughest of circumstances and the young lovers, now married, are beginning to feel safe and secure in their union. As much as Layken relishes their new life together, she finds herself wanting to know everything there is to know about her husband, even though Will makes it clear he prefers to keep the painful memories of the past where they belong. Still, he can't resist his wife's pleas and so he begins to untangle his side of the story, revealing for the first time his most intimate feelings and thoughts, retelling both the good and bad moments, and sharing a few shocking confessions of his own from the time when they first met.
In This Girl, Will tells the story of their complicated relationship from his point of view. Their future rests on how well they deal with the past in this final installment of the beloved Slammed series.
MY REVIEW OF BEAUTY FROM PAIN
They agreed on three months...but their love knew no boundaries.

Jack McLachlan is a winemaking magnate and easily one of Australia's most eligible bachelors. His success and wealth make him no stranger to the complications of romantic relationships and that's why he goes to extreme measures to avoid the hassle. He prefers simplicity in the form of a beautiful female companion with no strings attached. He arranges relationships like business deals and they're always the same. No long term relationships. No real names.

It's his game and his rules. He's content to play as usual, but when Laurelyn Prescott enters his life, his strategy must change because this player is like none he's ever encountered. His world is turned on its head after he begins a three month affair with the beautiful American musician. Nothing goes according to plan and as he breaks more and more of his own rules for her, she's exceptionally close to becoming something he never thought possible. His ultimate game changer.
MY REVIEW OF LOVE LOVE
Gabrielle Willis is smart. She's funny. And oh yes, she's a bit klutzy.
When Gabrielle left sunny California bound for the energy of Manhattan, she was willingly leaving the life she had known for the new life she would create. But was she really leaving something behind or was she running away?
On the outside, Gabrielle Willis has it all under control. A new life in Manhattan, a great roommate, and a good job. But she is haunted. Haunted by a memory she's tried to forget and by a family who's abandoned her. But what happens when what's on the outside is only an illusion and in perfect contradiction to what's buried deep within?
Enter Dane Rhodes. He's gorgeous, smart, and sexy as hell. Just what Gabby wants, or so she thinks. But when she meets Brad Dixon, the sweet guy with the crooked smile, he begins to make her see that the very thing she is trying to run from is the very thing that just may push her to see the light.
MY REVIEW OF CONSEQUENCES
Bartender Claire Nichols has always kept her customers at a friendly distance. But one serious lapse in judgment causes her life to take a drastic and brutal turn. She finds herself thrust into a life she never knew or wanted. She must depend on her intuition and adaptability. Yet she has difficulty trusting her own instincts. Now, every aspect of her livelihood depends on a tall wealthy dark-haired, dark-eyed businessman. Did fate bring Anthony Rawlings into her life? Or was it something more calculated? More sinister?
With very limited options, Claire attempts to endure a hellish existence that has changed her beliefs, her personality, her looks, and even her name. Actions have consequences. Will Claire be able to control the actions to accomplish her new goal—survival? Follow her tumultuous journey as she struggles to fight back and regain her freedom no matter what the Consequences…
MY REVIEW OF CONNECTED
What if a 'Once in a Lifetime' could happen twice?
Suffering from a past full of tragedy, Dahlia London's soul has been left completely shattered. Happily ever after is a far cry from reality in her world. But, when she is reconnected with her past, the bonds that form are irrefutable.
When River Wilde, lead singer of The Wilde Ones, comes back into Dahlia's life, the intensity that fires their relationship combined with underlying feelings that have never died lead her to believe she has met her soul mate.
Struggling with confusion as old connections fade and new ones begin, Dahlia's grief begins to lift—but guilt remains. River wants to be the one to mend all that is torn within her.
But with a past that is never really gone, can their future survive?
MY REVIEW OF RECKLESS
Can love survive when life gets Reckless?
When the band hits it big, Kiera and Kellan must ask themselves: Can their love for each other survive the constant pressures of superstardom? The friendships they've formed, the new family they've found, and the history they've forged will all play a part in helping them navigate the turbulent waters of the band's exploding popularity.
A greedy executive hell-bent on success, a declining pop star looking for an edge, and a media circus that twists lies into truths are just some of the obstacles the lovers will have to overcome if they are going to remain together.
Fame comes with a price-but will it cost Kiera and Kellan everything?
MY REVIEW OF THE UNBECOMING OF MARA DYER
Mara Dyer doesn't think life can get any stranger than waking up in a hospital with no memory of how she got there.
It can.
She believes there must be more to the accident she can't remember that killed her friends and left her mysteriously unharmed.
There is.
She doesn't believe that after everything she's been through, she can fall in love.
She's wrong.
MY REVIEW OF ENTWINED WITH YOU
From the moment I first met Gideon Cross, I recognized something in him that I needed. Something I couldn't resist. I saw the dangerous and damaged soul inside–so much like my own. I was drawn to it. I needed him as surely as I needed my heart to beat.
No one knows how much he risked for me. How much I'd been threatened, or just how dark and desperate the shadow of our pasts would become.
Entwined by our secrets, we tried to defy the odds. We made our own rules and surrendered completely to the exquisite power of possession…
To his alarm, West realizes he is falling in love with the best friend who has always been a sister to him
MY REVIEW OF WAIT FOR YOU
Some things are worth waiting for…
Traveling thousands of miles from home to enter college is the only way nineteen-year-old Avery Morgansten can escape what happened at the Halloween party five years ago—an event that forever changed her life. All she needs to do is make it to her classes on time, make sure the bracelet on her left wrist stays in place, not draw any attention to herself, and maybe—please God—make a few friends, because surely that would be a nice change of pace. The one thing she didn't need and never planned on was capturing the attention of the one guy who could shatter the precarious future she's building for herself.
Some things are worth experiencing…
Cameron Hamilton is six feet and three inches of swoon-worthy hotness, complete with a pair of striking blue eyes and a remarkable ability to make her want things she believed were irrevocably stolen from her. She knows she needs to stay away from him, but Cam is freaking everywhere, with his charm, his witty banter, and that damn dimple that's just so… so lickable. Getting involved with him is dangerous, but when ignoring the simmering tension that sparks whenever they are around each other becomes impossible, he brings out a side of her she never knew existed.
Some things should never be kept quiet…
But when Avery starts receiving threatening emails and phone calls forcing her to face a past she wants silenced, she's has no other choice but to acknowledge that someone is refusing to allow her to let go of that night when everything changed. When the devastating truth comes out, will she resurface this time with one less scar? And can Cam be there to help her or will he be dragged down with her?
And some things are worth fighting for…
MY REVIEW OF CLOCKWORK PRINCESS
Tessa Gray should be happy - aren't all brides happy?
Yet as she prepares for her wedding, a net of shadows begins to tighten around the Shadowhunters of the London Institute.
A new demon appears, one linked by blood and secrecy to Mortmain, the man who plans to use his army of pitiless automatons, the Infernal Devices, to destroy the Shadowhunters. Mortmain needs only one last item to complete his plan. He needs Tessa. And Jem and Will, the boys who lay equal claim to Tessa's heart, will do anything to save her.
MY REVIEW OF LEO
Evie and Leo met in foster care as children and formed a bond of friendship. As they grew, their bond turned to love and they vowed to make a life together when they turned 18 and were no longer a part of the system.
When Leo unexpectedly gets adopted as a teen and he moves to another city, he promises Evie that he will contact her as soon as he gets there and come back for her in a few short years. She never hears from him again.
Now eight years later, in spite of the odds, Evie has made a life for herself. She has a job, she has friends, she's content. Then a man shows up out of the blue, claiming that her long lost love, Leo, sent him to check up on her. The attraction between them is undeniable. But, should she trust this sexy stranger? Or is he keeping a secret about what his connection to Leo is really all about and why Leo disappeared all those years ago?
MY REVIEW OF TANGLED
Drew Evans is a winner. Handsome and arrogant, he makes multimillion dollar business deals and seduces New York's most beautiful women with just a smile. He has loyal friends and an indulgent family. So why has he been shuttered in his apartment for seven days, miserable and depressed?
He'll tell you he has the flu.
But we all know that's not really true.
Katherine Brooks is brilliant, beautiful and ambitious. She refuses to let anything - or anyone - derail her path to success. When Kate is hired as the new associate at Drew's father's investment banking firm, every aspect of the dashing playboy's life is thrown into a tailspin. The professional competition she brings is unnerving, his attraction to her is distracting, his failure to entice her into his bed is exasperating.
Then, just when Drew is on the cusp of having everything he wants, his overblown confidence threatens to ruin it all. Will he be able untangle his feelings of lust and tenderness, frustration and fulfillment? Will he rise to the most important challenge of his life?
Can Drew Evans win at love?
So there you go... this weeks Top Ten Many! What is yours?

Feel free to leave your links below so that I can check them out and if you are a new follower be sure to let me know so that I can come and check out your blog in return!