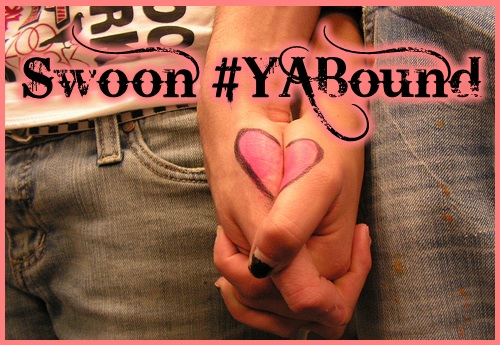 Who doesn't love a good swoon?
The ladies over at YA Bound have created this hot and fun meme!
If you want to join in here's all you need to do.
From the book you're currently reading, or one you just finished, tell us what made you SWOON. What got your heart pounding, your skin tingling and your stomach fluttering?
Then pick a smaller portion of your swoon and tweet it, just don't forget to add the #YABOUND Hashtag to your tweet!

This Girl was so butterflying amazing. It was difficult for me to write a review that was worthy of such a spectacular book.
This weeks swoon is a long one but it is oooOOOooohhh so worth it. This is Will and Lake's first kiss from Will's point of view, and I don't believe there has ever been a more swoonworthy a moment to share. I have so much love for these characters.
My review for This Girl will be posted a little bit later today, so be sure to come back and check it out!
Add it to your TBR Pile: Goodreads
I suddenly don't care where we are or who might be watching us. I have to kiss her. I have to.

I take her face in my hands and lean in closer, ignoring the part of my conscience that is screaming for me to wait. She closes her eyes, inviting me in. I hesitate, but as soon as I feel her breath fall on my lips, I can't hold back. I close the gap between us, lightly pressing my lips against her bottom lip. It's even softer than it looks. Somehow the background noise has completly faded and all I can hear is the sound of my own heartbeat, pulsating throughout my entire body. I slowly move my lips up to her top lip, but as soon as I feel my mouth beging to part, I reluctantly pull away. As much as I want to kiss her with everything I've got, I'm also vaguely aware that we're in public, and I've got at least two students here tonight. I decide to save the better kiss for later, because if we do this right now, I know I won't want to stop.

"Patience," I whisper, mustering up all the self-control I've got. I stroke her cheek with my thumb and she smiles at me in understanding. Still holding her face in my hands, I close my eyes again and press my lips against her cheek. She sucks in a breath as I release my hold and slide my hands down her arms, trying to remember how to breathe again. I'm unable to pull away from her, so I press my forehead against hers and open my eyes. It's in this moment that I know she's feeling exactly what I'm feeling. I can see it in her eyes.

"Wow," she exhales.

"Yeah," I agree. "Wow."
What is your swoon worthy moment this week?
Feel free to leave your links below so that I can check them out and if you are a new follower be sure to let me know so that I can come and check out your blog in return!