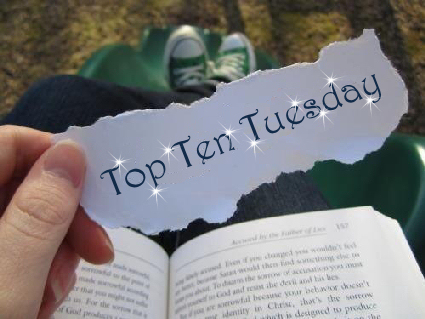 Hosted by Broke and The Bookish
This Week's Topic is:
Top Ten Books When You Need Something Light & Fun
He was tall, at least six feet, with dirty blond hair that hung over his eyes. His T-shirt read Nietzsche Is My Homeboy.

So, that was Matt. Who Julie Seagle likes. A lot. But there is also Finn. Who she flat out loves.

Complicated? Awkward? Completely.

But really, how was this freshly-minted Boston transplant and newbie college freshman supposed to know that she would end up living with the family of an old friend of her mother's? This was all supposed to be temporary. Julie wasn't supposed to be important to the Watkins family, or to fall in love with one of the brothers. Especially the one she's never quite met. But what does that really matter? Finn gets her, like no one ever has before. They have connection.

But here's the thing about love, in all its twisty, bumpy permutations—it always throws you a few curves. And no one ever escapes unscathed.
Caroline Reynolds has a fantastic new apartment in San Francisco, a KitchenAid mixer, and no O (and we're not talking Oprah here, folks). She has a flourishing design career, an office overlooking the bay, a killer zucchini bread recipe, and no O. She has Clive (the best cat ever), great friends, a great rack, and no O.

Adding insult to O-less, since her move, she has an oversexed neighbor with the loudest late-night wallbanging she's ever heard. Each moan, spank, and–was that a meow?–punctuates the fact that not only is she losing sleep, she still has, yep, you guessed it, no O.

Enter Simon Parker. (No, really, Simon, please enter.) When the wallbanging threatens to literally bounce her out of bed, Caroline, clad in sexual frustration and a pink baby-doll nightie, confronts her heard-but-never-seen neighbor. Their late-night hallway encounter has, well, mixed results. Ahem. With walls this thin, the tension's gonna be thick…
Sometimes, the hardest part of finding love is keeping a straight face…

For Jamie Newman, being a single guy isn't proving to be much fun, especially when confronted with a sexually belligerent divorcee and a goddess so far out of his league she might as well be a different species.

Mind you, being a girl in search of love isn't a bowl of cherries either. Just ask Laura McIntyre, who's recently contended with a horny estate agent on a quest for light relief, and a rabid mountain bike enthusiast with a penchant for genital display.

When Jamie and Laura bump into one another (quite literally) it looks like their luck may have changed – but sometimes finding the right person is only the start of your problems…

Based on real-life tales of dating disaster and relationship blunders, Love... From Both Sides is a warts-and-all romantic comedy for everyone who knows how tricky (and occasionally ridiculous) the quest for love can be.
Poppy Wyatt has never felt luckier. She is about to marry her ideal man, Magnus Tavish, but in one afternoon her "happily ever after" begins to fall apart. Not only has she lost her engagement ring in a hotel fire drill but in the panic that follows, her phone is stolen. As she paces shakily around the lobby, she spots an abandoned phone in a trash can. Finders keepers! Now she can leave a number for the hotel to contact her when they find her ring. Perfect!

Well, perfect except that the phone's owner, businessman Sam Roxton, doesn't agree. He wants his phone back and doesn't appreciate Poppy reading his messages and wading into his personal life.

What ensues is a hilarious and unpredictable turn of events as Poppy and Sam increasingly upend each other's lives through emails and text messages. As Poppy juggles wedding preparations, mysterious phone calls, and hiding her left hand from Magnus and his parents . . . she soon realizes that she is in for the biggest surprise of her life.
Anna is looking forward to her senior year in Atlanta, where she has a great job, a loyal best friend, and a crush on the verge of becoming more. Which is why she is less than thrilled about being shipped off to boarding school in Paris--until she meets Étienne St. Clair. Smart, charming, beautiful, Étienne has it all...including a serious girlfriend.

But in the City of Light, wishes have a way of coming true. Will a year of romantic near-misses end with their long-awaited French kiss?
Meet Emma Corrigan, a young woman with a huge heart, an irrepressible spirit, and a few little secrets:

Secrets from her boyfriend: I've always thought Connor looks a bit like Ken. As in Barbie and Ken.

Secrets from her mother: I lost my virginity in the spare bedroom with Danny Nussbaum while Mum and Dad were downstairs watching Ben-Hur.

Secrets she wouldn't share with anyone in the world: I have no idea what NATO stands for. Or even what it is.

Until she spills them all to a handsome stranger on a plane. At least, she thought he was a stranger... Until Emma comes face-to-face with Jack Harper, the company's elusive CEO, a man who knows every single humiliating detail about her.
Nick Spalding tried to write a book in 24 hours. Turns out that's impossible... it took 30!

He had a dull, drizzly weekend to kill, so made a start on the book he'd been promising to write all his life... and had it finished by midnight Sunday.

You'll laugh out loud reading his odyssey of non-stop writing, in a selection of anecdotes, asides and stories... all dredged up from an over-stimulated brain functioning on caffeine, nicotine and the occasional chocolate biscuit.

The book is a conversation with YOU and with Nick you'll venture into the thorny topics of love, life, sex, horribly timed bowel movements and a deathly fear of sponges (among many other things).

After you've read Life... With No Breaks, you may never look at the world the same way again!
She was a girl, standing in front of a boy...

Movie fanatic Scarlett O'Brien dreams of a life as glamorous and romantic as all the big screen flicks she worships. When a chance house-sitting job in iconic Notting Hill comes along, she knows living in one of her favorite movie settings is an opportunity too good to pass up.

Leaving behind her skeptical friends, family, and fiance, Scarlett heads to London and finds herself thrust into the lead role of her very own romantic comedy. But can real life ever be just like the movies? Larger-than-life new friends, a handsome but irksome new neighbor, and a mystery from her past may prove to Scarlett that living her life like a RomCom is more complicated than she thought!
Meet Bridget Jones—a 30-something Singleton who is certain she would have all the answers if she could:
a. lose 7 pounds
b. stop smoking
c. develop Inner Poise
"123 lbs. (how is it possible to put on 4 pounds in the middle of the night? Could flesh have somehow solidified becoming denser and heavier? Repulsive, horrifying notion), alcohol units 4 (excellent), cigarettes 21 (poor but will give up totally tomorrow), number of correct lottery numbers 2 (better, but nevertheless useless)..."
Bridget Jones' Diary
is the devastatingly self-aware, laugh-out-loud daily chronicle of Bridget's permanent, doomed quest for self-improvement — a year in which she resolves to: reduce the circumference of each thigh by 1.5 inches, visit the gym three times a week not just to buy a sandwich, form a functional relationship with a responsible adult, and learn to program the VCR.
Over the course of the year, Bridget loses a total of 72 pounds but gains a total of 74. She remains, however, optimistic. Through it all, Bridget will have you helpless with laughter, and — like millions of readers the world round — you'll find yourself shouting, "Bridget Jones is me!"
To: You (you)
From: Human Resources (human.resources@thenyjournal.com)
Subject: This Book

Dear Reader,

This is an automated message from the Human Resources Division of the New York Journal, New York City's leading photo-newspaper. Please be aware that according to our records you have not yet read this book. What exactly are you waiting for? This book has it all:

*Humor
*Romance
*Cooking tips
*Great Danes
*Heroine in peril
*Dolphin-shaped driftwood sculptures

If you wish to read about any of the above, please do not hesitate to head to the checkout counter, where you will be paired with a sales associate who will work to help you buy this book.

We here at the New York Journal are a team. We win as a team, and lose as one as well. Don't you want to be on the winning team?

Sincerely,

Human Resources Division
New York Journal

Please note that failure to read this book may result in suspension or dismissal from this store.

*********This e-mail is confidential and should not be used by anyone who is not the original intended recipient. If you have received this e-mail in error please inform the sender and delete it from your mailbox or any other storage mechanism.*********
So there you go... this weeks Top Ten! What is yours?

Feel free to leave your links below so that I can check them out and if you are a new follower be sure to let me know so that I can come and check out your blog in return!