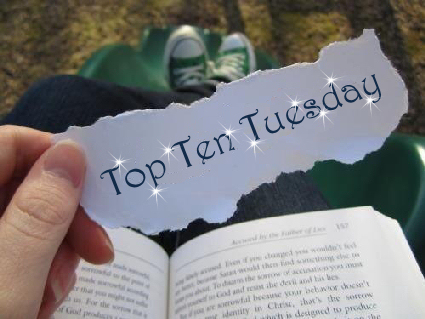 Hosted by Broke and The Bookish
This Week's Topic is:
Top Ten Tuesday Freebie
Top Ten Books By Authors I Read For The First Time In 2013
MY REVIEW OF FLAT-OUT LOVE
He was tall, at least six feet, with dirty blond hair that hung over his eyes. His T-shirt read Nietzsche Is My Homeboy.
So, that was Matt. Who Julie Seagle likes. A lot. But there is also Finn. Who she flat out loves.
Complicated? Awkward? Completely.
But really, how was this freshly-minted Boston transplant and newbie college freshman supposed to know that she would end up living with the family of an old friend of her mother's? This was all supposed to be temporary. Julie wasn't supposed to be important to the Watkins family, or to fall in love with one of the brothers. Especially the one she's never quite met. But what does that really matter? Finn gets her, like no one ever has before. They have connection.
But here's the thing about love, in all its twisty, bumpy permutations—it always throws you a few curves. And no one ever escapes unscathed.
MY REVIEW OF LOVE LOVE
Gabrielle Willis is smart. She's funny. And oh yes, she's a bit klutzy.
When Gabrielle left sunny California bound for the energy of Manhattan, she was willingly leaving the life she had known for the new life she would create. But was she really leaving something behind or was she running away?
On the outside, Gabrielle Willis has it all under control. A new life in Manhattan, a great roommate, and a good job. But she is haunted. Haunted by a memory she's tried to forget and by a family who's abandoned her. But what happens when what's on the outside is only an illusion and in perfect contradiction to what's buried deep within?
Enter Dane Rhodes. He's gorgeous, smart, and sexy as hell. Just what Gabby wants, or so she thinks. But when she meets Brad Dixon, the sweet guy with the crooked smile, he begins to make her see that the very thing she is trying to run from is the very thing that just may push her to see the light.
MY REVIEW OF CONSEQUENCES
Bartender Claire Nichols has always kept her customers at a friendly distance. But one serious lapse in judgment causes her life to take a drastic and brutal turn. She finds herself thrust into a life she never knew or wanted. She must depend on her intuition and adaptability. Yet she has difficulty trusting her own instincts. Now, every aspect of her livelihood depends on a tall wealthy dark-haired, dark-eyed businessman. Did fate bring Anthony Rawlings into her life? Or was it something more calculated? More sinister?
With very limited options, Claire attempts to endure a hellish existence that has changed her beliefs, her personality, her looks, and even her name. Actions have consequences. Will Claire be able to control the actions to accomplish her new goal—survival? Follow her tumultuous journey as she struggles to fight back and regain her freedom no matter what the Consequences…
MY REVIEW OF CLICK TO SUBSCRIBE
135,789. That's how many subscribers sixteen-year-old West Ryder has on his web vlog series. But he only has eyes for one of them.
As one of the internet's most prestigious video bloggers, West talks about high school relationships under the name "Sam Green." As far as he knows, no one from school, not even his best friend, Cat, has seen his videos. But the highlight of the whole thing is Harper Knight, who comments every day at exactly 2:02 in the afternoon. He doesn't know anything about her aside from the occasional deep philosophical messaging on why pizza tastes so delicious, but as stupid as it sounds, he might be falling for her. So when they finally agree to meet in real life, West's hope for romance seems more and more in reach. But that all changes as soon as he arrives at their meeting spot and sees Cat walking toward him, wearing the same "I <3 Sam Green" T-shirt Harper promised she'd have on.
To his alarm, West realizes he is falling in love with the best friend who has always been a sister to him
MY REVIEW OF LEO
Evie and Leo met in foster care as children and formed a bond of friendship. As they grew, their bond turned to love and they vowed to make a life together when they turned 18 and were no longer a part of the system.
When Leo unexpectedly gets adopted as a teen and he moves to another city, he promises Evie that he will contact her as soon as he gets there and come back for her in a few short years. She never hears from him again.
Now eight years later, in spite of the odds, Evie has made a life for herself. She has a job, she has friends, she's content. Then a man shows up out of the blue, claiming that her long lost love, Leo, sent him to check up on her. The attraction between them is undeniable. But, should she trust this sexy stranger? Or is he keeping a secret about what his connection to Leo is really all about and why Leo disappeared all those years ago?
MY REVIEW OF SINS & NEEDLES
Ellie Watt is used to starting over. The daughter of a grifting team, Ellie spent her childhood being used as a pawn in her parents' latest scam. Now she's much older, wiser and ready to give her con artist life a rest. But returning to the dry desert town of Palm Valley, California means one more temptation than she bargained for - Camden McQueen.
Once known as the high school weirdo, Camden is bigger and badder than the boy he used to be and a talented tattoo artist with his own thriving business. Ellie's counting on Camden still being in love with her but what she's not counting on is how easily unrequited love can turn into obsession over time.
MY REVIEW OF THOUGHTLESS
For almost two years now, Kiera's boyfriend, Denny, has been everything she's ever wanted: loving, tender and endlessly devoted to her. When they head off to a new city to start their lives together, Denny at his dream job and Kiera at a top-notch university, everything seems perfect. Then an unforeseen obligation forces the happy couple apart.
Feeling lonely, confused, and in need of comfort, Kiera turns to an unexpected source – a local rock star named Kellan Kyle. At first, he's purely a friend that she can lean on, but as her loneliness grows, so does their relationship. And then one night everything changes...and none of them will ever be the same.
MY REVIEW OF BEAUTY FROM PAIN
They agreed on three months...but their love knew no boundaries.
Jack McLachlan is a winemaking magnate and easily one of Australia's most eligible bachelors. His success and wealth make him no stranger to the complications of romantic relationships and that's why he goes to extreme measures to avoid the hassle. He prefers simplicity in the form of a beautiful female companion with no strings attached. He arranges relationships like business deals and they're always the same. No long term relationships. No real names.
It's his game and his rules. He's content to play as usual, but when Laurelyn Prescott enters his life, his strategy must change because this player is like none he's ever encountered. His world is turned on its head after he begins a three month affair with the beautiful American musician. Nothing goes according to plan and as he breaks more and more of his own rules for her, she's exceptionally close to becoming something he never thought possible. His ultimate game changer.
MY REVIEW OF THE UNBECOMING OF MARA DYER
Mara Dyer doesn't think life can get any stranger than waking up in a hospital with no memory of how she got there.
It can.
She believes there must be more to the accident she can't remember that killed her friends and left her mysteriously unharmed.
There is.
She doesn't believe that after everything she's been through, she can fall in love.
She's wrong.
MY REVIEW OF CONNECTED
What if a 'Once in a Lifetime' could happen twice?
Suffering from a past full of tragedy, Dahlia London's soul has been left completely shattered. Happily ever after is a far cry from reality in her world. But, when she is reconnected with her past, the bonds that form are irrefutable.
When River Wilde, lead singer of The Wilde Ones, comes back into Dahlia's life, the intensity that fires their relationship combined with underlying feelings that have never died lead her to believe she has met her soul mate.
Struggling with confusion as old connections fade and new ones begin, Dahlia's grief begins to lift—but guilt remains. River wants to be the one to mend all that is torn within her.
But with a past that is never really gone, can their future survive?
So there you go... this weeks Top Ten! What is yours?

Feel free to leave your links below so that I can check them out and if you are a new follower be sure to let me know so that I can come and check out your blog in return!