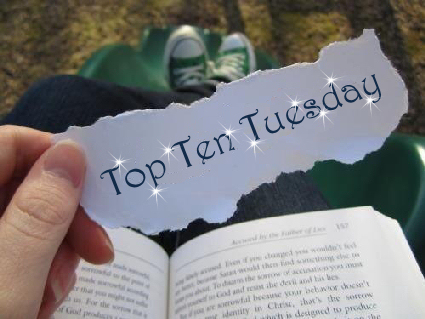 Hosted by Broke and The Bookish
This Week's Topic is:
Top Ten Books Dealing With Tough Subjects
MY REVIEW
I wasn't always in love with Colton Calloway; I was in love with his younger brother, Kyle, first. Kyle was my first one true love, my first in every way.
Then, one stormy August night, he died, and the person I was died with him.

Colton didn't teach me how to live. He didn't heal the pain. He didn't make it okay. He taught me how to hurt, how to not be okay, and, eventually, how to let go.
MY REVIEW
Sometimes discovering the truth can leave you more hopeless than believing the lies…

That's what seventeen-year-old Sky realizes after she meets Dean Holder. A guy with a reputation that rivals her own and an uncanny ability to invoke feelings in her she's never had before. He terrifies her and captivates her all in the span of just one encounter, and something about the way he makes her feel sparks buried memories from a past that she wishes could just stay buried.

Sky struggles to keep him at a distance knowing he's nothing but trouble, but Holder insists on learning everything about her. After finally caving to his unwavering pursuit, Sky soon finds that Holder isn't at all who he's been claiming to be. When the secrets he's been keeping are finally revealed, every single facet of Sky's life will change forever.
MY REVIEW
Former piano prodigy Nastya Kashnikov wants two things: to get through high school without anyone learning about her past and to make the boy who took everything from her—her identity, her spirit, her will to live—pay.

Josh Bennett's story is no secret: every person he loves has been taken from his life until, at seventeen years old, there is no one left. Now all he wants is be left alone and people allow it because when your name is synonymous with death, everyone tends to give you your space.

Everyone except Nastya, the mysterious new girl at school who starts showing up and won't go away until she's insinuated herself into every aspect of his life. But the more he gets to know her, the more of an enigma she becomes. As their relationship intensifies and the unanswered questions begin to pile up, he starts to wonder if he will ever learn the secrets she's been hiding—or if he even wants to.
MY REVIEW
When Jacqueline follows her longtime boyfriend to the college of his choice, the last thing she expects is a breakup two months into sophomore year. After two weeks in shock, she wakes up to her new reality: she's single, attending a state university instead of a music conservatory, ignored by her former circle of friends, and failing a class for the first time in her life.

Leaving a party alone, Jacqueline is assaulted by her ex's frat brother. Rescued by a stranger who seems to be in the right place at the right time, she wants nothing more than to forget the attack and that night - but her savior, Lucas, sits on the back row of her econ class, sketching in a notebook and staring at her. Her friends nominate him to be the perfect rebound.

When her attacker turns stalker, Jacqueline has a choice: crumple in defeat or learn to fight back. Lucas remains protective, but he's hiding secrets of his own. Suddenly appearances are everything, and knowing who to trust is anything but easy.
MY REVIEW
So wrong for each other...and yet so right.

No one knows what happened the night Echo Emerson went from popular girl with jock boyfriend to gossiped-about outsider with "freaky" scars on her arms. Even Echo can't remember the whole truth of that horrible night. All she knows is that she wants everything to go back to normal. But when Noah Hutchins, the smoking-hot, girl-using loner in the black leather jacket, explodes into her life with his tough attitude and surprising understanding, Echo's world shifts in ways she could never have imagined. They should have nothing in common. And with the secrets they both keep, being together is pretty much impossible.Yet the crazy attraction between them refuses to go away. And Echo has to ask herself just how far they can push the limits and what she'll risk for the one guy who might teach her how to love again.
MY REVIEW
If anyone knew the truth about Beth Risk's home life, they'd send her mother to jail and seventeen-year-old Beth who knows where. So she protects her mom at all costs. Until the day her uncle swoops in and forces Beth to choose between her mom's freedom and her own happiness. That's how Beth finds herself living with an aunt who doesn't want her and going to a school that doesn't understand her. At all. Except for the one guy who shouldn't get her, but does....

Ryan Stone is the town golden boy, a popular baseball star jock-with secrets he can't tell anyone. Not even the friends he shares everything with, including the constant dares to do crazy things. The craziest? Asking out the Skater girl who couldn't be less interested in him.

But what begins as a dare becomes an intense attraction neither Ryan nor Beth expected. Suddenly, the boy with the flawless image risks his dreams-and his life-for the girl he loves, and the girl who won't let anyone get too close is daring herself to want it all....
MY REVIEW
Bartender Claire Nichols has always kept her customers at a friendly distance. But one serious lapse in judgment causes her life to take a drastic and brutal turn. She finds herself thrust into a life she never knew or wanted. She must depend on her intuition and adaptability. Yet she has difficulty trusting her own instincts. Now, every aspect of her livelihood depends on a tall wealthy dark-haired, dark-eyed businessman. Did fate bring Anthony Rawlings into her life? Or was it something more calculated? More sinister?
With very limited options, Claire attempts to endure a hellish existence that has changed her beliefs, her personality, her looks, and even her name. Actions have consequences. Will Claire be able to control the actions to accomplish her new goal—survival? Follow her tumultuous journey as she struggles to fight back and regain her freedom no matter what the Consequences…
MY REVIEW
Following the unexpected death of her father, 18-year-old Layken is forced to be the rock for both her mother and younger brother. Outwardly, she appears resilient and tenacious, but inwardly, she's losing hope.

Enter Will Cooper: The attractive, 21-year-old new neighbor with an intriguing passion for slam poetry and a unique sense of humor. Within days of their introduction, Will and Layken form an intense emotional connection, leaving Layken with a renewed sense of hope.

Not long after an intense, heart-stopping first date, they are slammed to the core when a shocking revelation forces their new relationship to a sudden halt. Daily interactions become impossibly painful as they struggle to find a balance between the feelings that pull them together, and the secret that keeps them apart.
MY REVIEW
Some things are worth waiting for…

Traveling thousands of miles from home to enter college is the only way nineteen-year-old Avery Morgansten can escape what happened at the Halloween party five years ago—an event that forever changed her life. All she needs to do is make it to her classes on time, make sure the bracelet on her left wrist stays in place, not draw any attention to herself, and maybe—please God—make a few friends, because surely that would be a nice change of pace. The one thing she didn't need and never planned on was capturing the attention of the one guy who could shatter the precarious future she's building for herself.

Some things are worth experiencing…

Cameron Hamilton is six feet and three inches of swoon-worthy hotness, complete with a pair of striking blue eyes and a remarkable ability to make her want things she believed were irrevocably stolen from her. She knows she needs to stay away from him, but Cam is freaking everywhere, with his charm, his witty banter, and that damn dimple that's just so… so lickable. Getting involved with him is dangerous, but when ignoring the simmering tension that sparks whenever they are around each other becomes impossible, he brings out a side of her she never knew existed.

Some things should never be kept quiet…

But when Avery starts receiving threatening emails and phone calls forcing her to face a past she wants silenced, she's has no other choice but to acknowledge that someone is refusing to allow her to let go of that night when everything changed. When the devastating truth comes out, will she resurface this time with one less scar? And can Cam be there to help her or will he be dragged down with her?

And some things are worth fighting for…
MY REVIEW
Twenty-year-old Camryn Bennett had always been one to think out-of-the-box, who knew she wanted something more in life than following the same repetitive patterns and growing old with the same repetitive life story. And she thought that her life was going in the right direction until everything fell apart.

Determined not to dwell on the negative and push forward, Camryn is set to move in with her best friend and plans to start a new job. But after an unexpected night at the hottest club in downtown North Carolina, she makes the ultimate decision to leave the only life she's ever known, far behind.

With a purse, a cell phone and a small bag with a few necessities, Camryn, with absolutely no direction or purpose boards a Greyhound bus alone and sets out to find herself. What she finds is a guy named Andrew Parrish, someone not so very different from her and who harbors his own dark secrets. But Camryn swore never to let down her walls again. And she vowed never to fall in love.

But with Andrew, Camryn finds herself doing a lot of things she never thought she'd do. He shows her what it's really like to live out-of-the-box and to give in to her deepest, darkest desires. On their sporadic road-trip he becomes the center of her exciting and daring new life, pulling love and lust and emotion out of her in ways she never imagined possible. But will Andrew's dark secret push them inseparably together, or tear them completely apart?
So there you go... this weeks Top Ten! What is yours?

Feel free to leave your links below so that I can check them out and if you are a new follower be sure to let me know so that I can come and check out your blog in return!