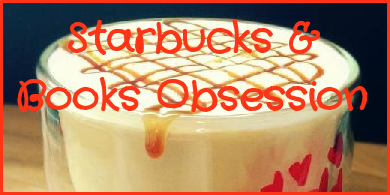 My name is Chelsea and I am originally from a small town in Idaho but I currently live in Seattle, WA. I am 27, married and have a 5 year old Alaskan Malamute. I work in Finance and I absolutely love to read. Some of my favorite TV Shows are The Walking Dead, Supernatural, Friends, Psych.
When and why did you become a book blogger?
I started blogging in February 2013. I absolutely love to read and enjoy talking about the books I read but realized I didn't really have anyone to discuss them with. There were a few book blogs I was following and realized that would be a great way for me to share and connect with other reading addicts like myself. I have been enjoying it so much and found it to be the hobby I have been looking for.
How did you come up with the name of your blog?
I love books and I love Starbucks! I was actually in line at Starbucks when the name came to me.
What is your favorite thing about blogging?
My favorite thing about blogging is connecting with other bloggers and sharing thoughts and opinions on books.
What do you find the hardest about blogging?
I think the hardest part of blogging is coming up with creative ideas to keep the blog interesting. I love doing reviews but features and memes help keep readers interested.
Does your blog participate in any weekly features and if so which is your favorite?
I participate in Top Ten Tuesdays by The Broke and Bookish, Waiting on Wednesday by Breaking the Spine and Feature and Follow Fridays by Alison Can Read and Parajunkee. I also started my own meme called Saturday at Starbucks. They are all great memes but if I had to pick a favorite, it would be Feature and Follow Friday because it is a great way to discover other's blogs and support each other.
What has been your favorite moment since you became a book blogger? Which review, interview or giveaway have you been most proud of?
My favorite moment was probably reaching 100 followers. It is so great that so many people have checked out my blog and enjoyed my posts. The proudest review I have done is on
Blackbrooke
. I am most proud of this because I didn't think I would like the book since it is different than what I normally read but I loved it and was so surprised by that.
What kind of genres do you enjoy reading and reviewing the most?
I enjoy Paranormal Romances and Dystopian the most.
What is your favorite individual book or series? What makes you love it so much?
I have so many but if I had to pick one, I would pick The Covenant Series by Jennifer Armentrout. I love the characters and the dialogue in this book so much and I have the whole series 2-3 times.
Who is your favorite fictional male character, why and from what book or series are they from?
This is a close one but winning by a close margin would be Four from Divergent. I like him because he is such a multi-dimensional character. He is tough but can also be vulnerable.
Who is your favorite fictional female character, why and from what book or series are they from?
For this one, I would pick Katy from the Lux Series. Katy is strong and she doesn't take Daemon's crap, even when he humiliates her. She isn't afraid to admit when she messes up and will do anything make up for it.
Who are your favorite three authors and why?
Jennifer Amentrout ~ She has such a unique writing style and she writes some of the most interesting dialogue I have ever read. I own every book she has written.
Addison Moore ~ She is an exceptional writer and the imagery in her books is so detailed. She also has an incredible imagination.
JK Rowling ~ Simply because Harry Potter is one of the greatest series I have ever read and the imaginative world she created was so incredible.
If you could turn one book or series into films, what would you pick and who would you cast as the main characters?
I would pick the Lux Series and I would cast Jared Padalecki as Daemon and Nina Dobrev as Katy.
What books are you most looking forward to in 2013?
I have so many...
Apollyon, Origin, Obsession, Frigid, Unchained and Sentinel, all by Jennifer Armentrout. Inferno by Dan Brown, The Elite by Kiera Cass, Divergent 3 by Veronica Roth, Winter's Kiss by Lizzy Ford, to name a few.
Paper books or ebooks?
Ebooks because I can start reading them as soon as I order but I love to own epic books in print also.
Where is your favorite place to read?
I love curling up on my couch with a coffee and a book.
Milk chocolate, white chocolate or dark chocolate?
I am actually not really a chocolate person but if I had to pick one, I would go with white chocolate.
Coffee, hot tea or hot chocolate?
Oh, definitely coffee
Would you like to give any other details about yourself? How can others find you around the web? Such as Facebook, Twitter, Goodreads, etc...
Blog:
http://bookbloggerparadise.blogspot.com
Twitter:
https://twitter.com/starbucksnbooks
Goodreads:
http://www.goodreads.com/user/show/17623693-chelsea-mamatov