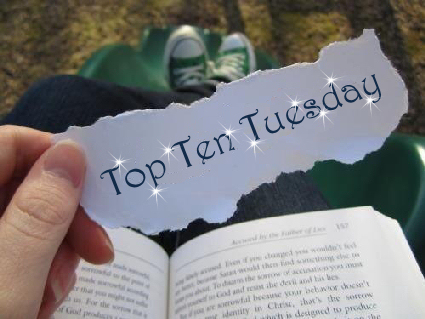 Hosted by Broke and The Bookish
This Week's Topic is:
Top Ten Favorite Books I Read Before I Was A Blogger
Harry Potter Series

Do I even need to explain this one? Harry Potter is and always will be epic. I will never forget this series and one day I will have the joy of re-reading all of them... one after another.
Twilight Series

Yes. I am a Twihard. I have of course read much better books since the Twilight series but at the time it was amazing. I just hadn't ever really read a book like it before and I really did enjoy them.
Bridget Jones Series

I read these books before the movie and can say I loved them both in their own ways. Of course the books were so much better! I just love Mark Darcy.
The Other Boleyn Girl

Again, I read this before the movie and was swept away in the descriptions, location and era. Unfortunately I haven't found another Philippa Gregory booked that I loved as much but I still enjoy her work.
Shopaholic Series

Love. Love. Love Becky Bloomwood! I love the whole series... it is such a fun read and there is talk that it will continue. I hope so because you can never go wrong with more Becky.
Robert Langdon Series

This was the first mystery/thriller that I read and I can't believe it has already been around 10 years since I finished it the first time. Wow. I am so very excited for Inferno to be released in May.
His Dark Materials Series

Loved this series. Loved the world it created, the characters and it continued to stay with me after. I love Lyra and Pantalaimon and would strongly suggest this series to anybody.
Boy Series

It has honestly been so long since I read this book but I just remember it being so much fun. The entire book is written in eMails between different people. The later books include eMails, texts, letters.. it is a lot of fun.
The Firm

This was the first John Grisham book that I read and again this is all making me very old... I read this book in 1993. Honestly. I am old. But it doesn't change the fact that I loved, loved, loved this book.
Twenties Girl

Sophie Kinsella is one of my favorite authors and Twenties Girl is probably my favorite of hers. I loved the characters, the romance and it was a highly emotional read.
So there you go... this weeks Top Ten! What is yours?

Feel free to leave your links below so that I can check them out and if you are a new follower be sure to let me know so that I can come and check out your blog in return!