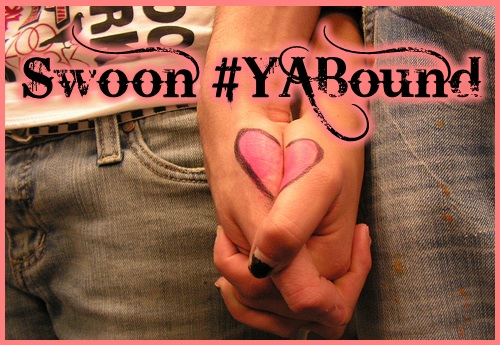 Who doesn't love a good swoon?
The ladies over at YA Bound have created this hot and fun meme!
If you want to join in here's all you need to do.
From the book you're currently reading, or one you just finished, tell us what made you SWOON. What got your heart pounding, your skin tingling and your stomach fluttering?
Then pick a smaller portion of your swoon and tweet it, just don't forget to add the #YABOUND Hashtag to your tweet!

Holy cow... Woods has got to be one of the hottest male characters I have ever, and I mean EVER read about. I really liked him before but this book absolutely blew me away. I can not suggest Twisted Perfection enough, it was amazing.
You can read my spoiler free review
HERE
Woods set his glass down on the table on the other side of his chair but didn't take his eyes off of me.

"I'd planned to be good tonight. But I can't. Not with you looking at me like that," Woods said as he took the glass from my hand and put it down beside his.

"I think I'll be okay if I can just have a little. Just a small taste. It's been too long and I can't seem to think about anything other than how much I want to kiss you," he brushed his finger over my lips. "and the many parts of you I want to touch," he said slipping one of his hands around my waist.
What is your swoon worthy moment this week?
Feel free to leave your links below so that I can check them out and if you are a new follower be sure to let me know so that I can come and check out your blog in return!