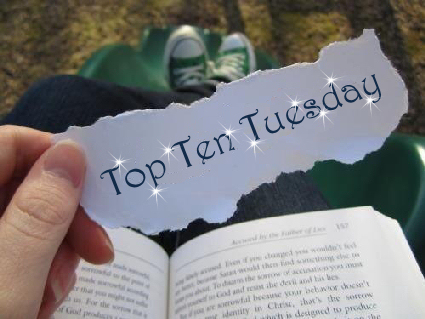 Hosted by Broke and The Bookish
This Week's Topic is:
Top Ten Tuesday REWIND --

P

ick a past topic you missed or one you want to revisit!
I am a cover whore lover. There I said. A cover is not the only reason that I pick up a book but I can say that a poorly designed cover sure does make it hard for me to see beyond it.

So, I of course picked a topic that centered around covers. I have so many favorites so I picked my Top Ten Favorite Covers, but in my case I only picked from books I have read in the last 12 months.
Die For Me

I could have easily put every single book from the series on this list. They are spectacular. The coloring, the scroll work, Paris backdrop, Kate's dress... honestly it is just perfect. I could happily print and frame each cover to hang on my wall.
The Unbecoming of Mara Dyer

When I first started reading Mara Dyer I thought that there was something that was going to be connected to water in the story but there isn't. Every cover in the series is underwater but even though water plays no real part... it is perfect. Because in a way Mara is drowning, just not in water. And this cover is amazing, the coloring and the pose are perfect.
Clockwork Prince

This cover is perfect for this book. Why? Because that IS Jem Carstairs. Even if I had not been given this visual on the book, he is exactly how I would have pictured Jem. I am sure it also helps that I love Jem with all my heart and therefore I love this cover model.
Anna Dressed in Blood

Both Anna books have amazing covers but the first is my favorite of the two. Love the black and white, love the use of color on Anna's dress. This book has a spook factor and the cover helps to set that mood.
Warm Bodies

This book has a lot of different covers to pick from but this is my favorite of them. I love the image of R walking and the red coming from his head. I had never read a zombie related book before but I have to say I was drawn to this cover. I really do love it.
Obsidian

I love all of the Lux series covers but I think Obsidian is my favorite. Why do I love the Lux covers? That man. Pepe Toth. Again, there is no way that anybody else could ever be Daemon for me. This is exactly how I picture Daemon in my head while I am reading the books.
Twisted Perfection

Could there be a better Woods? Not a chance. These cover models are perfect for Woods and Della. In the book Woods is always described at having scruff on his face... perfect. And I love the font that is used here and again the color pops.
A Discovery of Witches

You know... red is not a favorite color of mine but it appears that I love covers that use red. Go figure. The first book in this series, A Discovery of Witches, takes place mostly in Oxford England and I love the black and white photo of the university at the bottom along with the ribbons of red across the top.
Connected

This cover is just hot. I saw that cover and immediately knew I wanted to read the book. Thankfully the book itself is just as excellent as this gorgeous cover. I was drawn to the pearls on the cover model and you will be happy to know that the pearls are actually part of the story.
Apollyon

I love every cover of the Covenant series but Apollyon is my favorite. Each cover shows a different flower and this one is just stunning. The color used just makes the flower come to life and it just jumps off the cover.
So there you go... this weeks Top Ten! What is yours?

Feel free to leave your links below so that I can check them out and if you are a new follower be sure to let me know so that I can come and check out your blog in return!