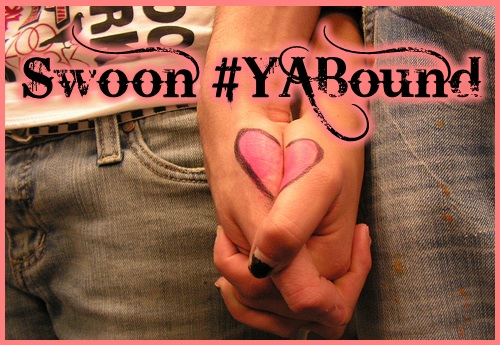 Who doesn't love a good swoon?
The ladies over at YA Bound have created this hot and fun meme!
If you want to join in here's all you need to do.
From the book you're currently reading, or one you just finished, tell us what made you SWOON. What got your heart pounding, your skin tingling and your stomach fluttering?
Then pick a smaller portion of your swoon and tweet it, just don't forget to add the #YABOUND Hashtag to your tweet!

This was an amazing book and oh my.... River Wilde is such a swoonworthy character. Honestly, read this swoon and tell me that you are not in love? If you haven't already make sure to read Connected, you will not be disappointed.
I love her so much and I want to not only show her, but also tell her just how much. Letting go of her hands, I softly trail my fingers back up her body, playfully teasing her along the way, but stopping at her heart to trace it. I can feel the goosebumps form on her skin as I lower my head down to kiss the line I just etched. "I love you."

I kiss my way back up to her lips and gently cup her chin. I look into her eyes and tell her exactly how I feel. "Dahlia, I will love you forever." Then I kiss her and finish telling her my thoughts. "In this lifetime and in the next."
What is your swoon worthy moment this week?
Feel free to leave your links below so that I can check them out and if you are a new follower be sure to let me know so that I can come and check out your blog in return!