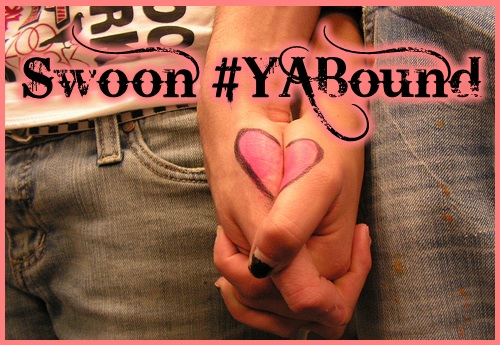 Who doesn't love a good swoon?
The ladies over at YA Bound have created this hot and fun meme!
If you want to join in here's all you need to do.
From the book you're currently reading, or one you just finished, tell us what made you SWOON. What got your heart pounding, your skin tingling and your stomach fluttering?
Then pick a smaller portion of your swoon and tweet it, just don't forget to add the #YABOUND Hashtag to your tweet!

This was such a fun and enjoyable book. And this swoon may be the best first kiss... ever. Want to know what happens after this amazing kiss? Best get to reading it to find out.
He stood and offered me his arm. "My lady?"

"You don't want to finish our drinks?"

He took my hand, and pressed his lips against the inside of my wrist. "I'm already intoxicated."

I laughed, because the line was ridiculous (and because I didn't want to admit that it still worked).

He grinned. "Too far? What can I say... the Bard gives me a flair for the dramatic."

"Let's try for some realism instead."

He said, "I think I can do that."

I'd barely processed his words before he'd pulled me up from the chair and covered my mouth with his own. His scent overwhelmed me-citrus and leather and something else that made my mouth water. I was almost too shocked to react. I was acutely aware of the fact that he was kissing me in the middle of a bar, until he nipped at my bottom lip. My whole body shuddered, and my heart dropped toward my stomach like the force of gravity had doubled.

My head was swimming, but I didn't care. I opened my mouth, and immediately his tongue swept in, taking control. My hands clutched at his back, and in response, he pulled me closer. His kiss was slow and then fast, tender then punishing.
What is your swoon worthy moment this week?
Feel free to leave your links below so that I can check them out and if you are a new follower be sure to let me know so that I can come and check out your blog in return!