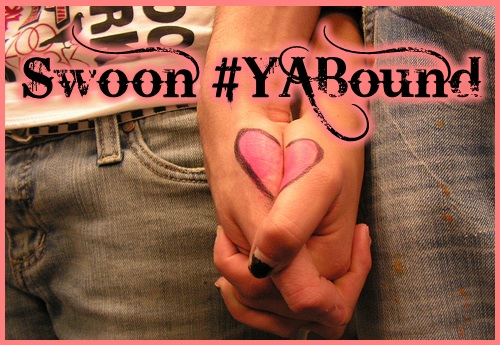 Who doesn't love a good swoon?
The ladies over at YA Bound have created this hot and fun meme!
If you want to join in here's all you need to do.
From the book you're currently reading, or one you just finished, tell us what made you SWOON. What got your heart pounding, your skin tingling and your stomach fluttering?
Then pick a smaller portion of your swoon and tweet it, just don't forget to add the #YABOUND Hashtag to your tweet!

I thought he had decided against whatever he was doing he waited so long. I began to pull back in disappointment, but he reached behind my neck gently and pulled me to him. The barest of touches was the best way to describe our first kiss. It wasn't really a kiss at all. His bottom lip barely brushed my top one.

When he leaned back and opened his eyes, he must've seen the confusion and frustration in my face. He chuckled. "I just had to taste that coconut..." he licked his lips, "but I don't want to kiss you when you've been angry with me and I messed up our date. I want to kiss you when, if we go another second without it, one of us will combust."

My breaths were raging. I tried to calm myself. "I..." I failed.

"I want to give you back your first kiss, the one that jerk stole from you. And I want it to be something that even a coma can't make you forget."
What is your swoon worthy moment this week?
Feel free to leave your links below so that I can check them out and if you are a new follower be sure to let me know so that I can come and check out your blog in return!