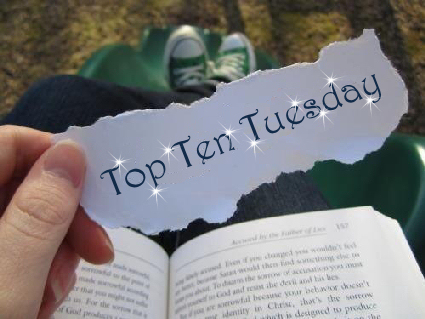 Hosted by Broke and The Bookish
This Week's Topic is:
Top Ten Characters I Would Crush On If I Were Also A Fictional Character
My only problem with this list is how in the WORLD do I get it down to only ten?
Yep. I tried to get it down to only ten but was unsuccessful therefore here is my extended list...
Please know that other than the top two these are in particular order, strangely I feel I must point this out.
Kellan Kyle

Kellan is at this point in time at the tip top of my book boyfriend list. He stole my heart in the Thoughtless series and it will be very hard indeed for anybody to knock him off the #1 spot. And did I mention he is the lead singer in a band? This makes him even hotter....

"You'll never know how incredible you are to me, how desperately I love you. I would do it all over again if I needed to. I'd go back to the beginning for you"
Jem Carstairs

If anybody were close to knocking Kellan off the top of my list it would be Jem. My heart belongs to Jem. He is the most caring, sweet, loyal and loving character... ever. I mean that in all honesty. He is amazing.

"You speak of sacrifice, but it is not my sacrifice I offer. It is yours I ask of you," he went on. "I can offer you my life, but it is a short life; I can offer you my heart, though I have no idea how many more beats it shall sustain. But I love you enough to hope that you wil not care that I am being selfish in trying to make the rest of my life - whatever length - happy, by spending it with you. I want to be married to you, Tessa. I want it more than I have ever wanted anything else in my life." He looked up at her through the veil of silvery hair that fell over his eyes. "That is," he said shyly, "if you love me, too."
Rush Finlay

Hot. Tattoos. Controlling. Sweet. Sexy. Caring. Yep, Rush has the full package. Did I mention hot? Sorry, got a little sidetracked there. Rush is just on fire and he and Blaire give off some major sparks when they are together.

"Talk. We are going to talk first. I want to see you smile and laugh. I want to know what your favorite show was when you were a kid and who made you cry at school and what boy band you hung posters of on your wall. Then I want you naked in my bed again."
Cameron Hamilton
Cam is... *sigh* He is just amazing. There are not that many characters that can pull off being as charming as Cam. He is such a loveable character, and funny. I have never laughed as hard. He is something special.
"I'm beginning to think cookies is a code word for something else."

"Maybe it is." He tugged on my bag again as he took a confident step back, forcing me down another step. "And just think about it. If cookie was a code word, whatever it symbolizes, it's been in your mouth, sweetheart."
Noah Shaw

For a while there I didn't know if anybody was going to knock Noah off my #1 spot but it finally happened. Not that I do not still love Noah, I do. He is mysterious, caring and very loyal.

"You want me as much as I want you. And all I want is you."

My tongue warred with my mind. "Today," I whispered.

Noah stood slowly, his body skimming mine as he rose. "Today. Tonight. Tomorrow. Forever."
Will Cooper

Poetry. Need I say more? Will loves and writes poetry... *swoon* I simply fell in love with Will and I am eagerly awaiting the release of "This Girl" so that I can get back inside his head. I am so looking forward to seeing the start of his and Lake's relationship from his point of view.

"And if you've ever grown up with dreams in your head about life, and how one of these days you would pirate your own ship and have your own crew and that all of the mermaids

would love

only

you?

Well, you would realize...

Like I eventually realized...

That all the good things about her?

All the beautiful?

It's not real.

It's fake.

So you keep your ocean,

I'll take the Lake."
Andrew Parrish

Who needs anything else on a road trip? Andrew is all you really need... honestly. This cover is actually for the sequel to The Edge of Never but I wanted to use it because they could not have picked a better Andrew if they tried. Holy hotness.

"A woman who knows what she wants sexually, and isn't afraid to express it is so fucking hot, Camryn- Tell. Me. What. You. Want. Or, I won't give it to you."
Dean Holder

Dean broke my heart. His and Sky's story touched me and will stay with me for sometime. I am SO looking forward to Losing Hope which is this story but told from Dean's point of view. That will be amazing. Oh and I must add... this was my hardest quote to pick because Dean just has SO many great ones.

"The moment my lips touch yours, it will be your first kiss. Because if you've never felt anything when someone's kissed you, then no one's ever really kissed you. Not the way I plan on kissing you."
Travis Maddox

You either love Travis or you loathe him... I for one love him. The passion he has and his love for Abby makes him something special indeed. Like I said, love him or hate him.. there is no in between.

"To douchebags!" he said, gesturing to Brad. "And to girls that break your heart," he bowed his head to me. His eyes lost focus. "And to the absolute fucking horror of losing your best friend because you were stupid enough to fall in love with her."
Daemon Black
Nothing describes Daemon better than a quote from this book.
"Beautiful face. Beautiful body. Horrible attitude. It was the holy trinity of hot boys." That in nutshell is Daemon Black.
"You're amazing."

"I know it didn't take you this long to realize that."

"No. I've always known it." I watched him root around for another strawberry. "Maybe not in the beginning..."

He peeked up. "My awesomeness is all about the stealth."
Jericho Barrons

oooOOOooohhh Barrons. For so long he was at the #1 spot and to be honest in a way maybe he is still there (Sorry Kellan and Jem). I will always have a soft spot for Barrons. He takes the term 'Alpha Male' to a whole new category... and I *love* that about him.

"I'm not the hero, Mac. Never have been. Never will be. Let us be perfectly clear: I'm not the antihero, either, so quit waiting to discover my hidden potential. There's nothing to redeem me."
Ryan Stone

*sigh* This is what I do every single time I think of Ryan Stone. Ryan is an amazing character with so much strength and will. He stands up for what he wants and believes in and doesn't give a damn what others think. As I have mentioned it a million times before... He also does one of the single most romantic things I have ever read in a book. THE rain scene. *swoon* I love Ryan.

"It's our rain Beth."

Her head barely shakes to show her confusion while I rub the back of my neck and search for my courage. "I told you I loved you in this rain and when you doubt my words, I want you to look at this bottle."
So there you go... this weeks Top Ten! What is yours?

Feel free to leave your links below so that I can check them out and if you are a new follower be sure to let me know so that I can come and check out your blog in return!